TASK8: RAIDERS OF THE LOST PLE
by Eda Taçyıldız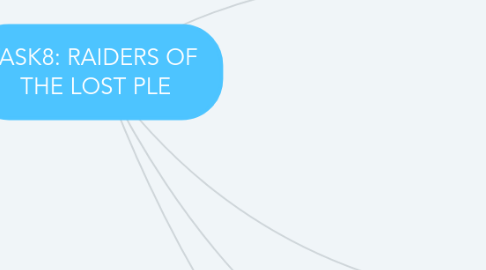 1. TOOLS WE USED
1.1. YOUTUBE
1.2. TWITTER
2. APPS WE USED
2.1. CANVA(All of us for the task)
2.2. MIND MEISTER ( For the curator's role)
3. DOCUMENTS WE USED
3.1. Castañeda, L. y Adell, J. (2013). La anatomía de los PLEs. En L. Castañeda y J. Adell (Eds.), Entornos Personales de Aprendizaje: Claves para el ecosistema educativo enred (pp. 11-27). Alcoy: Marfil.
4. SOURCES FOR THE DEVELOPMENT OF
4.1. YOUTUBE
4.1.1. 25 History Youtube Channels for History lovers. Feedspot Blog. (2021, May 2). https://blog.feedspot.com/history_youtube_channels/.
4.1.2. History Videos for Kids. Brookdale House. (2018, August 29). https://www.brookdalehouse.com/history-videos-for-kids/.
4.1.3. Lee, K. (2020, September 3). How to Create a YouTube Channel in 3 Simple Steps. Buffer Library. https://buffer.com/library/create-a-youtube-channel/.
4.1.4. YouTube. (2019). How to Promote Your New YouTube Channel and Get Subscribers Fast! YouTube. https://www.youtube.com/watch?v=v-jOeQNB5Ds.
4.1.5. YouTube. (n.d.). A Kid Explains History. YouTube. https://www.youtube.com/channel/UC3v0yBPHPPrpl35QMNvFTrQ.
4.2. TWITTER
4.2.1. https://twitter.com/tweetsofold?lang=es https://twitter.com/jqadams_mhs?lang=es https://twitter.com/yesterday_today?lang=es
4.2.2. Economy, P. (2015, April 29). 10 Ways to Create a Remarkably Effective Twitter Profile. Inc.com. https://www.inc.com/peter-economy/10-ways-to-create-a-remarkably-effective-twitter-profile.html.
4.2.3. 8 Steps to Get More Twitter Followers. Sprout Social. (2021, March 31). https://sproutsocial.com/insights/how-to-get-more-followers-on-twitter/.
4.2.4. 12 Most Effective Ways to Engage on Twitter. Business Class: Trends and Insights | American Express. (n.d.). https://www.americanexpress.com/en-us/business/trends-and-insights/articles/12-most-effective-ways-to-engage-on-twitter/.
4.2.5. Cornell, S. (2016, October 26). How to Promote Your Twitter Account. Small Business - Chron.com. https://smallbusiness.chron.com/promote-twitter-account-62543.html.
4.2.6. Admin. (2018, October 17). Teaching History in the 21st century: 5 interactive strategies. Schoolshistory.org.uk. https://schoolshistory.org.uk/topics/teaching-history-in-the-21st-century-5-interactive-strategies/.
4.3. ONLINE ANNOUNCEMENT BOARD
4.3.1. Online Bulletin and Discussion Boards. Assessment Tools for the Classroom - Learn at Your Own Pace - Professional Learning - REMC Home. (n.d.). https://www.remc.org/professionallearning/learn-at-your-own-pace/assessment-tools-for-the-classroom/online-bulletin-and-discussion-boards/.
4.3.2. YouTube. (2020). Linoit - Tech Tool to Create Virtual Collaborative Boards. YouTube. https://www.youtube.com/watch?v=GP34QvdKUqA.
4.3.3. YouTube. (2010). Linoit Groups. YouTube. https://www.youtube.com/watch?v=mhGcCX3iXWc.
4.3.4. Giese, S., Watson, A., Brittany, Hartley, L., ObjegaG, Wendy, … Burrows, D. (2017, March 12). Common bulletin board problems solved. The Cornerstone For Teachers. https://thecornerstoneforteachers.com/bulletin-boards/.
4.3.5. Starter), E. (T. (2020, October 29). 7 Ways to Create an Interactive Bulletin Board Display. Teach Starter. https://www.teachstarter.com/us/blog/7-ways-to-create-an-interactive-bulletin-board-display-3/.