Lili Watczak, ENGL 102
by Lili Jeanne Watczak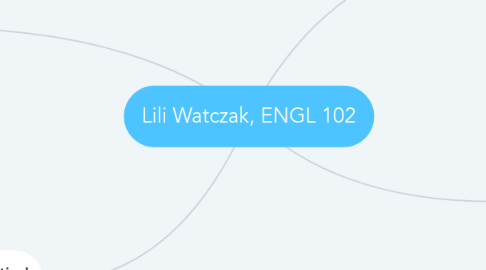 1. Peer Review
1.1. Peer Review for Digital Poster Draft
1.1.1. Providing helpful comments and constructive criticism for my peers, to help them revise and better their work.
1.2. Revision Plan for Intros, Evals, and Conclusions
1.2.1. Using peer review feedback to make improvements on my own work.
2. Supporting Arguments/Critical Thinking
2.1. Collecting Resources
2.1.1. Finding resources to use for evidence to support my thesis statement/claim.
2.2. Resources and Evidence for Digital Poster
2.2.1. Collecting and putting together multiple resources that supported my claim
3. Rhetorical Awareness
3.1. Drafting Citations and Summaries
3.1.1. Ideas about a text's purpose, audience and context to include in summaries for annotated bibliography.
3.2. Digital Poster Sketch
3.2.1. Thinking about design elements and layout that would accompany my audience and arguments.
3.3. Polishing Project 2 Layout and Design
3.3.1. Purposeful shifts in structure and design that were appropriate for my rhetorical context
4. Reflection and Revision
4.1. Archiving and Reflection Project 1
4.1.1. Looking back at my work throughout project one to determine the progress I made.
4.2. Revision Plan for Intros, Evals, and Conclusions
4.2.1. Reflecting on my own work and using peer review comments to revise my project.
4.3. Archiving and Reflection Project 2
4.3.1. Identifying and reflecting on my strengths and weaknesses throughout my project/work.