HACKING
by Jane Bianca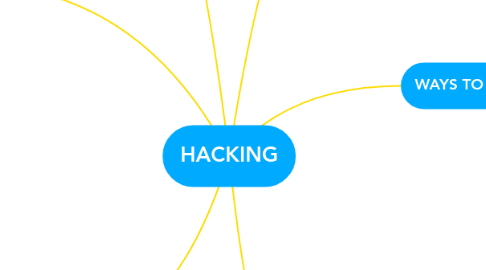 1. TYPES OF HACKERS
1.1. Ethical hacker (white hat)
1.1.1. Fixes identified weaknesses
1.1.2. Performs vulnerability assessments
1.1.3. Has authority/access
1.2. Cracker (black hat)
1.2.1. Hacks for personal gain
1.2.2. Steals data
1.2.3. Violates privacy rights
1.2.4. Transfers funds from bank accounts
1.2.5. Breaks into computer systems without authority
1.3. Grey hat
1.3.1. Identifies system weaknesses and reveals to owners
1.3.2. Requires compensation
1.3.3. Exploits if rewards are not met
2. DEFINITION
2.1. Unauthorized access to computer network.
2.2. Exploitation of weaknesses in a security system.
2.3. Activities that seek to compromise digital devices.
2.4. Done by people who are skilled in computer programming or hackers;
3. MOST COMMON TYPES
3.1. Phishing
3.2. UI Redress
3.3. Denial of Service (Dos/DDos)
3.4. DNS Spoofing
3.5. SQL Injection
3.6. Brute Force
3.7. Man in the Middle Attack
4. WAYS TO AVOID
4.1. Don't access personal or financial data with public Wi-Fi.
4.2. Turn off anything (GPS, wireless connection) when not in use.
4.3. Choose apps wisely.
4.4. Use a password, lock code or encryption.
4.5. Be skeptical about links and attachments.
4.6. Download anti-virus software.
5. INCIDENT
5.1. Social media accounts were hacked
5.1.1. Date of incident
5.1.2. Victim
5.1.2.1. Kris Bernal (Filipina actress)
5.1.2.2. Clicked a fake link, then typed her social media information
5.1.2.3. Gave an advice
5.1.2.3.1. Use two-factor authentication
5.1.2.3.2. Be wary of personal accounts and its passwords
5.1.3. Culprit
5.1.3.1. Unknown group from Turkey
5.1.3.2. Demands money from victim
6. INDICATIONS
6.1. Frequent pop-ups that redirects to unusual sites
6.2. Mass e-mails
6.3. Frequent crashes or slow device performance
6.4. Unusual activities like password changes
6.5. Malicious apps
6.6. Text or calls not made by owner