Harry Potter, A Global Franchise
by Samantha Haynes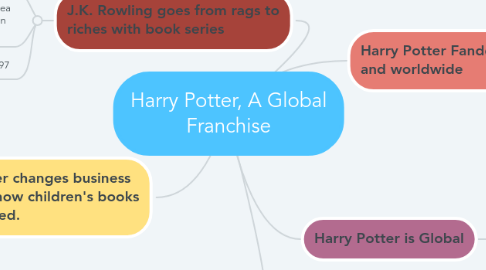 1. J.K. Rowling goes from rags to riches with book series
1.1. Seven books in the series.
1.2. Rowling came up with the idea while being stuck on a train in 1990.
1.3. first book released in 1997
2. Harry Potter changes business model for how children's books are published.
2.1. the book sees backlash due to "Occult".
2.2. Harry Potter becomes the first of many children's bestselling book series to go on to Hollywood and become movies, others include Divergent, the Hunger Games and Twilight.
3. Harry Potter Fandom is diverse and worldwide
3.1. Die hard fans known as Potterheads.
3.2. Fandom paved way for fanfiction, and forums
3.3. First real Quidditch game takes place at Vermont's Middlebury College in 2005
4. Harry Potter, can be found in every aspect of the media we consume
4.1. Books, Games, Movies, clothing cos play, theme parks
5. Harry Potter is Global
5.1. International Park in Japan
5.2. Books Translated in 73 different languages
5.3. one of the bestselling books in history
5.4. Translation freedom