Manual concepts are no longer needed in the digital age. Disagree.
by Andrew Bryan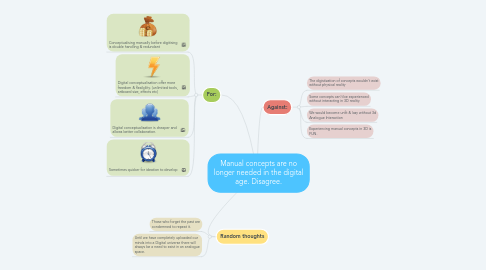 1. Random thoughts
1.1. Those who forget the past are condemned to repeat it.
1.2. Until we have completely uploaded our minds into a Digital universe there will always be a need to exist in an analogue space.
2. For:
2.1. Conceptualising manually before digitising is double handling & redundant
2.2. Digital conceptualisation offer more freedom & flexibility. (unlimited tools, artboard size, effects etc)
2.3. Digital conceptualisation is cheaper and allows better collaboration.
2.4. Sometimes quicker for ideation to develop
3. Against:
3.1. The digistization of concepts wouldn't exist without physical reality
3.2. Some concepts can't be experienced without interacting in 3D reality.
3.3. We would become unfit & lazy without 3d Analogue Interaction
3.4. Experiencing manual concepts in 3D is FUN.