E-Learning Control Website Based on Employee Education and Training by Rusli.S., Nizwardi.J., Krismadinata
by Felecia Ngalih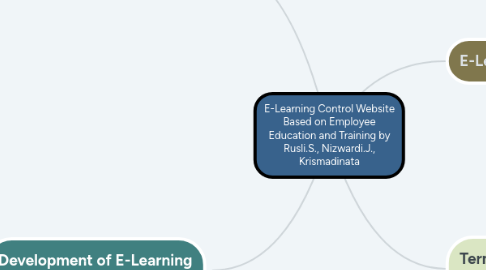 1. E-Learning
1.1. Electronic learning which includes all learning activities by individuals or groups who work online or offline.
1.2. Terry (2020) defines E-Learning as "the ability to deliver training and education through Web technology'
1.3. E-Learning can also be defined as a way of learning without the usage of printed paper or teaching materials!
1.4. E-Learning is intended to enhance training by providing content anytime, anywhere, and offering learners a new, interactive and timely experience
2. Terms used to describe E-Learning
2.1. Online training
2.2. Virtual learning
2.3. Distributed learning
2.4. Web-based learning
3. Benefits of E-Learning
3.1. Cost effective
3.1.1. No travel cost involved
3.1.2. Cost to conduct E-Learning is cheaper than the cost of in-house or external training
3.2. Efficient
3.2.1. Learning can be done anywhere and anytime
3.3. Self-learning management
3.3.1. Employees are able to learn at their own pace
3.3.2. Monitoring of self-learning activities
3.3.3. Employee is fully responsible for their own learning activities
4. Development of E-Learning Systems
4.1. Stage 1: System Design Stage
4.1.1. Each user will have an account to access to the system
4.1.1.1. HR or Employee Training Unit will be able to manage participants & trainer data.
4.1.1.2. Leader can monitor the user account data that has been registered by the staff e.g., monitor the employee progress
4.1.1.3. Instructor / Trainer can input the participant test score, provide materials and assignments, make polls / survey to gauge participants understanding of the learning topic.
4.2. Stage 2: System Implementation
4.2.1. Procedure performed to complete the existing system design i.e., test, install, pilot run
4.2.1.1. Users who want to access the system must first lf in using valid username & passoerd
4.2.1.2. The user will go directly to the home page
4.2.1.3. Each user (employee, leader & instructor) will have different menu on the homepage according to their user's access rights.