The Monkey's Paw by W.W. Jacobs
by Gracy Marianne Vargas Rondón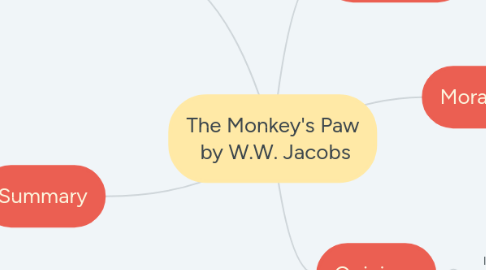 1. Summary
1.1. Chapter 1:
1.1.1. Things the White family likes to do
1.2. Chapter 2:
1.2.1. Information of the monkey's paw.
1.3. Chapter 3:
1.3.1. The White family make their first wish.
1.4. Chapter 4:
1.4.1. Helbert's death
1.5. Chapter 5:
1.5.1. Mrs White went sad because of her son's death ans remembered about the paw
1.6. Chapter 6:
1.6.1. Mrs White made Mr White make the second wish
1.7. Chapter 7:
1.7.1. Mr White makes the third wish because he was afraid to see his son
2. Author
2.1. W.W. Jacobs
2.1.1. Born: September 8, 1863, Wapping, United Kingdom
2.1.2. Died: September 1, 1943, Islington, London, UK
2.1.2.1. William Wymark Jacobs was a British humorist, novelist, and short story writer. He is known primarily from one of his ghoulish tales as The Monkey's Foot, included in the storybook The Lady of the Barge. Most of his work, however, belongs to the humorous genre.
3. Wish + Past
3.1. Mr Morris:
3.1.1. I wish I had a car
3.2. Family:
3.2.1. I wish I had one thousand three hundred dolars
4. Moral of the Story
4.1. Wishes can bring unhappiness, so think carefully about what are you going to wish for
5. Opinions
5.1. I think the mechanics to read the book were very interesting
5.1.1. The book was very good and easy to read
5.1.1.1. The activity was very dynamic