BUSINESS FUNDAMENTALS AND TODAY'S DYNAMIC BUSINESS ENVIRONMENT
by Nor Hazwani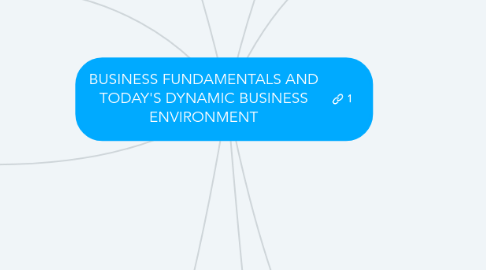 1. BUSINESS CONCEPTS AND DEFINITIONS
1.1. - Business Organizations - Profit - Entrepreneurs - Risk taking
2. BUSINESS DEVELOPMENT AND ITS CONTRIBUTION TO SOCIETY
2.1. Standard Living The amount of goods and services that people can buy with the money they have
2.2. Quality of life The general well-being of society in terms of political freedom, a clean natural environment, education, health care, safety, free time and everything else that leads to one's happiness and satisfaction
3. BALANCING INTERESTS OF BUSINESS STAKEHOLDERS
3.1. Stakeholders All the people or parties that stand to gain or lose by the policies and activities of a business
3.1.1. Suppliers
3.1.2. Customers
3.1.3. Employees
3.1.4. Bankers
3.1.5. Government agencies
3.1.6. Non-governmental organizations (NGOs)
3.1.7. Competitors
3.1.8. Share holders Individuals or parties that invest their funds in a business
3.2. important to maintain a good relationship between the stakeholders of an organizations. It is to ensure that the stakeholders' interests and social responsibilities of a business are fulfilled.
4. BUSINESS PRINCIPLES IN NON-PROFIT ORGANIZATIONS
4.1. Non-profit Organisations An organisation with goals that do not include making profits for its owners or organizers
4.2. Business principles are applicable to NGOs. It needs to have the same set of knowledge and skills to manage this type of organization
5. BUSINESS ENVIRONMENT
5.1. Competition
5.2. Economics Condition
5.3. Legislation
5.4. Technological Progress
5.5. Socio-cultural Environment
6. ETHICS AS A SOCIAL RESPONSIBILITY IN THE CONDUCT OF BUSINESS
6.1. Ethics The standards of moral behaviour that are accepted by society as right versus wrong It provides the basic rules that are required to conduct any activity in an acceptable manner.
6.1.1. It starts from one's inner feeling which is moral that is translated into one's behaviour. Factors contributing to ethical behaviour are as follows: upbringing, culture, socialization, experience and critical reflections on those experiences.
6.1.1.1. Values and Ethics in Islamic Management Religious values; Taqwa, syukur, tawakkal, muhasabah, justice and amar makruf nahi munkar. Professional Values; Education, skill, honesty, punctuality, trustworthy and syura (consultation). Personal values; Accountability, moderation, excellence, patience, tolerance, humbleness and salam (peace greetings) Quality values; Quality, productivity, itqan (the level of work quality), istiqamah, efficiency, creativity, innovation, collectivity and ihsan.
6.1.2. Ethical Dilemmas Conflict of Interest; Involves morality and economic trade-offs which involves constant trying to separate the person from the business decision. Personality traits; Relates especially to relationship and personal issues. Responsibility to stakeholders; The pressure of managerial rationalization, emphasizes the importance of having a code of ethics or conducts. Level of openness; must be honest and transparent.
6.1.3. Ethical Business Organization; openness, competence, integrity, benevolence and reputation. Importance of Managing Business Ethically; to avoid lawsuits, attract new customers, keep existing customers, reduce employee turnover and please customers, employees and society.
6.1.3.1. Setting ethical standards and improving ethics in businesses Leaders are advised to develop a code of ethics; compliance-based or integrity-based.Next, leaders in an organization must adopt and unconditionally support an explicit code or ethics or conduct. Employees are expected to act accordingly.
6.1.3.2. Managers and employees are to be trained to consider the ethical implications of all business decisions. Thus, an ethics office needs to be established to handle ethical enquiries or complaints. Outsiders of an organisation must be updated with the ethics programmes. For the enforcement of code of ethics; Rewards/Recognition and punishments.
6.2. Morality The norms, values and beliefs embedded in social processes which define right or wrong for an individual or a community.
7. SOCIAL RESPONSIBILITY AND SUSTAINABLE ENVIRONMENT
7.1. Social Responsibility (SR) is a broader concept of ethics that concerned with the impact of an organisation's activities on society.It is the obligation of a business to maximize its positive impact and minimize its negative impact on society, being the main element of the community. Sustainable Development (SD) is a pattern of resource used that aims to meet human needs while preserving the environment, so that these can be met not only in the present, but also for future generations.
7.2. Corporate Social Responsibility (CSR) is a business concern, especially a corporation, for the welfare of society. 1. Economic; being profitable 2. Legal; Obeying the laws 3. Ethical; Being ethical which just do what is right and being fair. 4. Voluntary; Being a good corporate citizen by contributing to the community and quality of life. Four dimension of CSR Economic: Profit is the essential foundation of any business organization; profit is the primary incentive for entrepreneurship. Legal: Being legal; not going against rules or regulations imposed on the business. Ethical: Whatever actions undertaken must be right, just and fair to all involved in the business. Voluntary: Additional activities that may not be required, but not promote human welfare and goodwill.
7.3. Social responsibility and corporate citizenship ; Corporations have great social power in society ; The Board of Directors must be accountable for ensuring that corporations protect the right of all stakeholders. ; Carroll's CSR model may be applied by any business form or entity ; Islamic ethics: As khalifah, human beings are accountable for their actions, good or bad.
8. CORPORATE GOVERNANCE
8.1. Corporate Governance; How corporations are being managed, i.e by the roles of shareholders, directors and other managers in corporate decision making as well as by accountability. It is through the corporate governance structure system that firms are able to ensure the needs of all stakeholders are satisfied.
8.1.1. Responsibilities of Board of Directors ; Being responsible to all stake holders ; Executing Fiduciary duties, relating to relationships involving trustee/trusts ; Forming and maintaining internal financial controls ; Communicating situations internally and externally ; Instituting and revising, as necessary, the code of ethics and ethical standards ; Selecting the external the external auditor ; Establishing different board committees, including the audit committee