MENU'
by VALENTINA D'ANNIBALE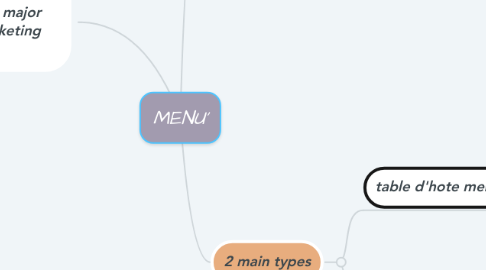 1. 3 main sections
1.1. 1-starters or oppetizers
1.1.1. include the italian antipasto, soups, such as vegetable, beef or fish soup.
1.2. 2- main courses or mains.
1.2.1. include pasta, rice, meat and fish dishes and they are served with vegetables, chips or salads.
1.3. 3- desserts or afters.
1.3.1. include sweet cakes and pies, ice-cream, fresh fruit and cheese.
2. 2 main types
2.1. table d'hote menu
2.1.1. carte du jour menu or daily menu
2.1.2. dessert menu
2.1.3. wine menu
2.1.3.1. is a detailed description of the wines available.
2.1.4. is a fixed-price menu with a limited choice of dishes from a set number of courses.
2.2. à la carte menu
2.2.1. is the most common menu type.
2.2.2. all dishes are priced and ordered separately and customers can choose anything from the list. dishes are cooked to order.
3. a menu is a list of all the dishes a restaurant offerts. it is a major communication and marketing tool.