RGS FEEDS 1. COST PER TON 2. TONS PER DAY 3. OPTIMUM EFFICIENCY
by Janarthanan mk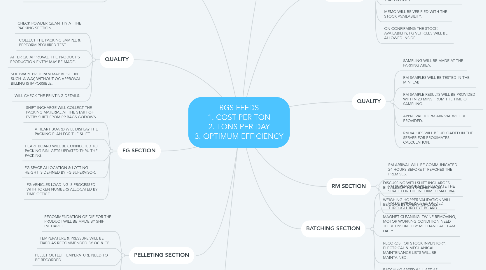 1. PURCHASE
1.1. FORMULA - 3 DAYS INADVANCE
1.2. PRODUCTION PLAN - 3 DAYS INADVANCE
1.3. RM PURCHASE AS PER SPECS
1.4. RM AVAILABILITY A DAY BEFORE THE PRODUCTION
2. TIME OFFICE
2.1. RM MATERIAL VECHICLES WILL BE PARKED OUTSIDE THE FACTORY
2.2. TIME OFFICE WILL INFORM TO QC & RM.
2.3. ON QC APPROVAL, VEHICLE WILL BE ALLOWED INSIDE THE FACTORY.
2.4. FG VEHICLES WILL BE PARKED OUTSIDE THE FACTORY.
2.5. MEMO WILL BE VERIFIED WITH THE STOCK AVAILABILITY.
2.6. ON CONFIRMING THE STOCK AVAILABILITY, FG VEHICLES WILL BE ALLOWED INSIDE.
3. QUALITY
3.1. SAMPLING WILL BE MADE AT THE PARKING AREA.
3.2. RM SAMPLES WILL BE TESTED IN THE MINI LAB.
3.3. RM SAMPLE RESULTS WILL BE PROVIDED WITHIN 20 MINS FROM THE TIME OF SAMPLING.
3.4. APPROVAL TO RM ARRIVAL WILL BE PROVIDED.
3.5. RM VALUES WILL BE UPLOADED IN THE SERVER FOR PROXIMATES CALCULATION.
4. FG SECTION
4.1. SHIFT INCHARGE WILL COLLECT THE PACKING MATERIAL AT THE START OF EVERY SHIFT FROM PP BAGS GODOWN.
4.2. A HEART BOARD WILL DISPLAY THE PACKING PLAN FOR THE SHIFT.
4.3. HEART BOARD WILL BE CONNECTED TO PACKING BIN, GETS UPDATED THRU THE PACKING.
4.4. FG SPACE ALLOCATION & LOTTING HEIGHT IS DEFINED BY FG SUPERVISOR.
4.5. FG VEHICLES LOADING IS PROCESSED WITH TOKEN NUMBERS ALLOCATED BY TIME OFFICE
5. RM SECTION
5.1. RM ARRIVAL WILL BE COMMUNICATED 24 HOURS BEFORE IT REACHES THE PREMISES.
5.2. RM SUPERVISOR WILL ALLOCATE THE SPACE FOR THE INFORMED MATERIAL.
5.3. RM DUMPING WILL BE GUIDED THROUGH 3RD EYE BOARD.
6. BATCHING SECTION
6.1. DISCUSSING WITH SHIFT INCHARGES BIN ALLOCATION WILL BE MADE.
6.2. WEIGHING HOPPER VALIDATION WILL BE DONE BY OPERATOR DAILY.
6.3. MAGNET CLEANING, TWINE REMOVING, MOTOR WORKING CONDITION NEED TO BE ENSURED BY MECHANICAL TEAM DAILY.
6.4. RECORDS FOR STOCK INVENTORY, ELECTRICAL & MECHANICAL MAINTENANCE LISTS WILL BE MAINTAINED.
6.5. BATCHING SPEED WILL SET AS RECOMMENDED BY QC.
7. PELLETING SECTION
7.1. RECOMMENDATION OF DIE FOR THE PRODUCT WILL BE MADE BY SHIFT INCHARGE.
7.2. TEMPERATURE & PRESSURE WILL BE FIXED AS RECOMMENDED BY QC & CPI
7.3. PELLET OUTLET TEMPERATURE NEED TO BE RECORDED
7.4. PELLET SIZE, SOLUBILITY NEED TO BE CHECKED.
7.5. PELLET SIZE WILL BE SET AS RECOMMEDED BY QC
8. QUALITY
8.1. MASH SAMPLES WILL BE COLLECTED & TESTED FOR MIXER MOISTURE.
8.2. RECOMMEND WATER ADDITION LIMIT
8.3. RECOMMEND SIEVE SIZE AT HAMMER MILL
8.4. CHECK BINS FOR ALLOCATION & MATERIAL MIXING.
8.5. COLLECT BIN SAMPLES FOR BACK TRACKING.
8.6. CHECK FOR CONDITIONING MASH
8.7. CHECK FOR TEMPERAURE AND STEAM QUALITY
9. TIME OFFICE
9.1. RM VEHICLES AFTER UNLOADING CHECK AT WEIGH BRIDGE & MOVE OUT OF THE FACTORY.
9.2. FG VEHICLES AFTER LOADING NEED TO BE COVERED.
9.3. FG VEHICLES WILL BE WEIGHED AT WEIGH BRIDGE, AFTER THE APPROVAL OF TIME OFFICER WILL BE ALLOWED TO MOVE OUT.
10. QUALITY
10.1. CHECK POWDER QUANTITY AT THE PACKING SECTION .
10.2. COLLECT THE PACKING SAMPLE & PERFORM REQUIRED TEST.
10.3. AFTER QC APPROVAL, THE PRODUCT'S PRODUCTION ENTRY MAY BE MADE.
10.4. SOFTWARE PROGRAM MAY BE SET IN SUCH A WAY, WITHOUT QC APPROVAL, BILLING IS IMPOSSIBLE.
10.5. WILL CHECK THE PRINTING DETAILS.