iPad summercourse
by
Arjan Broere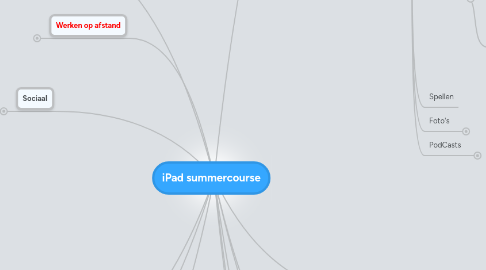 0.0
stars - reviews range from
0
to
5
iPad summercourse
Hardware
Apple TV
VGA adapter
Apps
Keynote, Presentatie weergave, Dia, Volgende/vorige, Tijd, Aanwijzen, Kan ppt importeren, Dia's maken en tonen, Remote, App op iPhone als afstandsbediening
Pdf's vanuit (zie Documenten)
Prezi, Geen VGA out dus omheen werken, Beperkte edit mogelijkheden
Notitieprogramma's, NotesShelf heeft VGA out, Notes Plus heeft VGA out
iTunes
Zie in iTunes tabs bij iPad
Via tab App per app Toevoegen, Pages, Keynote, VLC
Via cloud
Diensten, Dropbox, Koppel directory laptop aan DB, Ernaar toe mailen, Via browser uploaden, Sugarsync, Zie DB, Google Docs, "oude" FTP
Aggregatie app, Goodreader, Div diensten, Lezen, pdf annoteren, Bookmarks, ReaddleDoc, Zie GoodReader, CloudOn, Combineert goed met Office docs
Evernote
Via desktoepassing
Gekoppelde directory desktop
Via mail
Via iPhone/iPad/Android
Via andere diensten, Zite, Browser, Reeder, Reeder
NB: Openen kan op veel manieren maar hoe terugzetten?
terugmailen?
Openen binnen GoodReader vs naar app gaan
3G
Wifi
Hotspot via telefoon
Bluetooth
Wifi
Mifi
Extern toetsenbord
Sneller
Blind typen
Pijltjes toetsen
Sneltoetsen
Afstand tot iPad
VGA-connector
iPad naar beamer
Alleen met apps die ervoor gemaakt zijn
SD-/USB-connector
Foto's importeren
Nog niet andere devices via usb
Printen
?
Apple TV
Beeld exporteren naar HD TV
Heel beeldscherm of export van app
Stylus
Even wennen ;-)
Bediening met gebaren
Bijv Notes Plus
Pinch, swipe, ...
Home toets
Dubbelklikken, Multitasken
Enkel klikken
iPad Toetsenbord
Zweven
In tweeën delen
Toetsen ingeduwd houden
Zie accessoires
Aantekeningen
Evernote, Aantekeningen in maken, Aantekeningen uit andere apps in verzamelen
Notes Plus, Typen, Schrijven, Plaatjes en vormen, Internetimport in app, Pdf's, Audio opname
Noteshelf, Schrijven, Typen
MindMeister
Op pdf, Remarks, GoodReader, ReaddleDocs, NoteTaker, Notes Plus
Schrijven
Pages
Write2
MindMeister
Evernote
Blogapps, WordPress, Blogger, Blogsy
Ideeën
MindMeister
NotesPlus
Explain Everything
Adobe Ideas
Evernote
Pinterest
Moodboard
Skitch
Rekenen
Numbers, Kan Excell importeren
CloudOn, Via DropBox spreadsheets maken/lezen
Scannen
Readdle Scanner
JotNot
Lezen
Kranten/Tijdschriften, Koop app en in app koop je nummers, Veel papier-op-scherm, Bijv Humo mooi
Flipboard/Zine, Feeds mooi geaggregeerd, Zine wordt steeds slimmer
RSS, Reeder, Feeddler
iBooks, Boeken, Pdf's
Amazon/BOL/managementboek
TV, Gemist, RTL 365, Nieuws ed in magazine vorm, KPN/Ziggo/..., BBC, Niet alle content, Bijv site van NOS en livestream
Later lezen (verzamelen), Pocket, Instapaper, Readability
Muziek
Online, Spotify, Met account, 22tracks, VPRO Luisterpaal, Podcast
Offline, iTunes
Video's
Offline, Standaard Video app, Via iTunes naar iPad zetten, mp4, VLC, Diverse formaten, Via oa iTunes overzetten, Aceplayer, Vergelijkbaar met VLC
Online, YouTube, Vimeo, TED, Div TV zenders
Spellen
Foto's
Standaard app
Paintshop/Animoto/Instagram/Snapseed
PodCasts
via iTunes, Bijv radio uitzendingen, Special interest, GTD
k zou Podcast (tip: @5by5 en @70decibels podcasts) op zelfde niveau als Muziek zetten, met als App tip Instacast van @vemedio
GTD/Taken
Nozbe, projecten en taken, Integratie Dropbox, Integratie Evernote, iPad/iPhone/website/desktop, app is duur én account nodig
Remember the Milk, iPad/iPhone/website, App is gratis, wel account nodig
Wunderlist
OneNote, Microsoft, Op desktop, Gratis
Agenda
Standaard iPad agenda
Agenda (=naam app), Helder ontwerp, Swipe van maand-week-dag-afspraak
Mail
Mailapplicatie
Accounts toevoegen, Gmail, Exchange, Yahoo
Webmail via Safari, :-(
Contacten
Standaard Contacten app, Synct met Exchange
LinkedIn, Contacten, mail mogelijk, Notitieveld
Evernote Hello, EN-product, Koppelt contact aan agenda/GPS, Maak foto's, Voeg foto kaartje toe
CRM?
GITP-materiaal
PE-materiaal voor de iPad
Begripscode
App die voor iPhone en iPad een model uitlegt
TED
Sprekers
Unstuck
Creatieve manier van een probleem oplossen
Bevat interessante links
Mooie layout
Webinar/seminar/screencast/webtv
Bijv FastMovingTargets via Safari
Podcasts
Zie Google Form met vragen
Twitter
Facebook
LinkedIn
Hyves
Yammer
Data in the cloud
Jailbreaken
Wachtwoorden
LastPass, Werkt ook met je browser
1password
LogMeIn
TeamViewer
Sharepoint apps