RESPONDING TO THE CHALLENGES OF ONLINE EDUCATION.
by mac Mahen818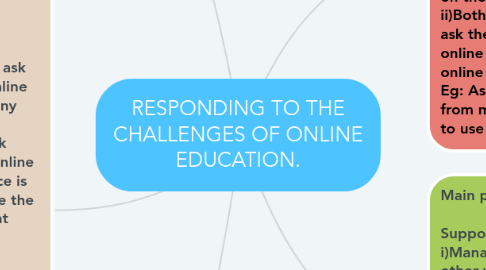 1. Main point 4 : Overcome Technical Issues. Supportive point : i) Both students and teacher should have high speed of internet connection. Eg: Can test the internet speed before the online class. If the internet speed is low, opt to other network, like Digi or Maxis based on the internet strength. ii)Both teachers and students can ask their friends or attend short online courses on how to use the online learning tools. Eg: As a student, I requested help from my friend to teach me on how to use Ms Teams.
2. Main point 5 : Time management Supportive point : i)Manage the time by not doing other works during online classes. Eg: As a student, I will not use social media like Whatsapp, Instagram during online class. I will keep my phone away during online class to prevent being distracted. ii)Set reminders for online classes and deadline for assignment submissions. Eg: Set reminders in phone
3. Main point 1 : Self motivation Supportive point : i)Students need to be committed by giving their full attention in online class. Ex: We can turn on the camera while attending the online class, so we will be aware that we are being watched and will not engage in other activities during online class. ii)Students can choose a suitable place to attend online classes which has less distractions. Ex: I will always attend online class in my study room to make sure no one disturb me during online class.
4. Main point 2: Improve Communication. Supportive point : i)Students need to ask question during online class if they have any doubts. Eg: l will always ask questions during online class and if my voice is not clear, I will type the question in the chat room. ii)Teachers should conduct quizzes or Q&A session during online class to improve engagement of students. Eg: Lecturers can make use of online quiz app like Kahoot or Quizziz during online classes.
5. Main point 3: Suitable learning tools. Supportive point : i) Use proper software for online classes. Eg : Microsoft teams, zoom and google class room. ii)Use suitable tools for submission of assignments. Eg : Cidos, Mindmeister, Turnitin