IMPERATIVE VERB
by Teresa Rosendo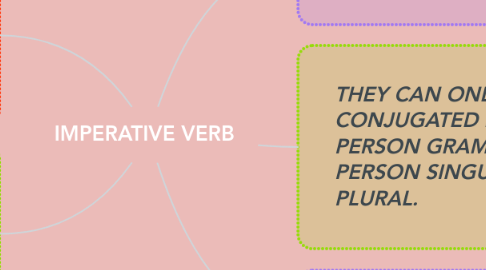 1. THEY CAN ONLY BE CONJUGATED IN THE SECOND PERSON GRAMATICAL: SECOND PERSON SINGULAR AND PLURAL.
2. IN THE IMPERATIVE MOOD THE PRONOUN OR THE SUBJECT IS EXPRESSED AFTER THE VERB FORM.
3. IN THIS TYPE OF MODE, THE CONJUGATION OF THE VERB IS VERY IMPORTANT
4. AFIRMATIVE SENTENCES: VERB+ NOUN, ADJECT. EXAMPLE: WASH YOUR HANDS.
5. NEGATIVE SENTENCES: AUXILIARY VERB (TO DO ) + NEGATIVE AUXILIARY (NOT ) + VERB + NOUN , ADJECTIVE. EXAMPLE: DON`T SMOKE IN FRONT OF CHILDEN