Killing a man for your personal reasons is a crime, yet why is it not a crime when men are killed on the battlefield for the ambitions and greed of the country's rulers?
by ABIGAIL PRIM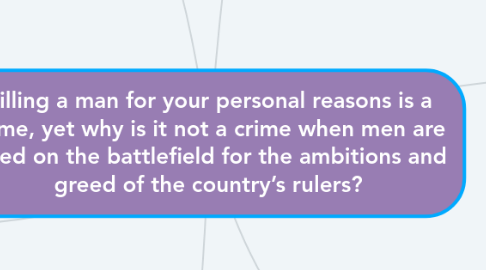 1. Murder isn't simply the act of killing someone. It's a legal term that defines an unlawful killing. The key word here being "unlawful".
1.1. The Laws of War protect the lives of civilians but not the lives of those actually fighting and engaged in the fight itself.
1.2. What is the definition of murder?
1.2.1. In lawful killing, the act is for the good of the country and addressing more of the larger picture rather than the individual life. Those in the war knew what they signed up for, and therefore knew the possibility of their death along the way.
1.2.2. In unlawful killing, the act is for the good of the murderer, for purely selfish motives without a larger picture. The victims in unlawful killing more than likely are unwilling to die and did not consciously know what they are getting in to.
2. Are there limitations to killing in war?
2.1. Civilian killing:
2.1.1. "Intentionally targeting civilians, buildings such as schools or houses and infrastructures like water sources or sanitation facilities is a war crime."
2.2. Killing of Hospital Workers:
2.2.1. "The wounded and sick always have a right to be cared for, regardless of which side of the conflict they're on. Medical and aid workers who are on duty in these areas make an effort to be neutral and serve both sides of the conflict. They must, therefore, be protected by all warring parties and allowed access to collect and care for the wounded and sick."
2.3. Killing Someone Who Has Surrendered:
2.3.1. "Killing or injuring a person who has surrendered or is no longer able to fight is also prohibited, as is punishing someone for an act that another person, even a family member, has committed."
3. I don't personally believe that there should be any real justification for killing another human life no matter what circumstances the people are in.
3.1. However, I'm not entirely sure how else conflicts would be solved if there was no physical fighting or people dying. I don't think we as people are able to just solve all conflicts verbally.
4. Why Haven't more religious groups gotten involved or protested war and the legal killing involved in war?
4.1. It is possible that the reason that there isn't more anti-war protests is because of the nature of the people/groups we are fighting.
4.2. A lot of the time, citizens don't even know what wars are over or what they're about.
5. Why are there limitations to killing in war?
5.1. There are limitations to killing in war to keep the safety of civilians and those not involved in the physical fight from being harmed.
5.2. Things would get out of hand if it was legal in war to kill anyone and everyone.
6. Could killing in war be justified as Self-Defense?
6.1. You could argue that killing in war is justified as Self Defense instead of murder. Everyone is shooting at the person shooting at them so I can definitely see where that would come from.
6.2. However, if everything is justified as self defense in war, then where do they draw that line? What isn't self defense?
6.2.1. This is where war crimes come in. You can be punished for doing something that is against the laws of war and you could be investigated.