Preparing for Baby Gilbert
by Samantha Gilbert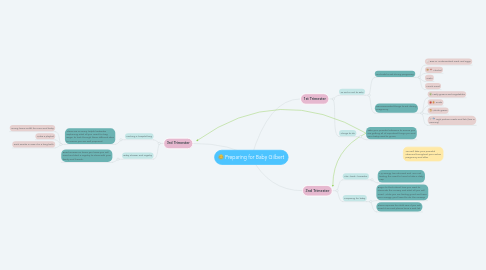 1. 1st Trimester
1.1. To eat or not to eat?
1.1.1. Not safe to eat during pregnancy
1.1.1.1. Raw or undercooked meat and eggs
1.1.1.2. Alcohol
1.1.1.3. Sushi
1.1.1.4. Lunch meat
1.1.2. Recommended things to eat during pregnancy
1.1.2.1. Leafy greens and vegetables
1.1.2.2. Fruits
1.1.2.3. Whole grains
1.1.2.4. High protein meats and fish (low in mercury)
1.2. Things to do
1.2.1. Take your prenatal vitamens to ensure you are getting all of important things you and your baby need to grow!
2. 2nd Trimester
2.1. The "best" trimester
2.1.1. My energy has returned and I am not feeling the need to have to take a daily nap.
2.2. Preparing for baby
2.2.1. Begin to think about how you want to decorate the nursery and what all you will need. While you are feeling good and have your energy, you'll want to do the nursery!
2.2.2. Place inquiries for child care if you will need it as most places have a wait list.
3. 3rd Trimester
3.1. Packing a hospital bag
3.1.1. There are so many helpful websites explaining what all you need for bag. Begin to look through these different sites to ensure you are well prepared.
3.1.1.1. Going home outfit for mom and baby
3.1.1.2. Make a playlist
3.1.1.3. Pack snacks in case it is a long birth
3.2. Baby shower and registry
3.2.1. Read reviews on items you know you will need and start a registry to share with your family and friends.
4. You will take your prenatal vitamins throughout your entire pregnancy and after