Why are coastal environments different and dynamic?
by MN4022021 MATTHEW AARON CHAN CHUN FONG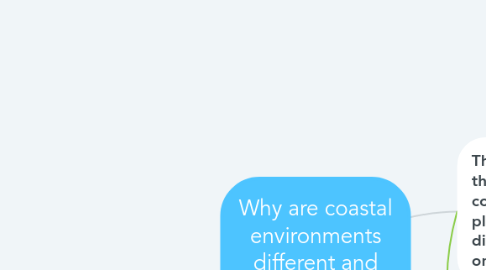 1. There are a multitude of factors that affect the appearance of coastlines, which differ from place to place --> allows different shorelines to change on a daily basis
1.1. Swell size and frequency
1.1.1. affects the amount of erosion/deposition occuring at coastlines
1.2. Local weather conditions
1.2.1. a storm can drastically change coastlines in a matter of hours --> significant increase in wave energy
1.3. Tides
1.4. Gradient of shoreline
1.4.1. This affects the types of breakers present on the shoreline, which affects the types of waves present on the part of shore --> constructive vs destructive waves
1.5. Type and layout of Rock
1.5.1. Affects the landforms present on different parts of shore --> drastically changes coastal landscape
2. This leads to many different landforms on different parts of coastlines, such as...
2.1. Wave-cut platform
2.2. Notch
2.3. Overhang
2.4. Caves
2.5. Beaches
2.6. Headlands and Bays