DISCOURSE ANALYSIS: KEY CONCEPTS AND PERSPECTIVES
by Roxana Barrantes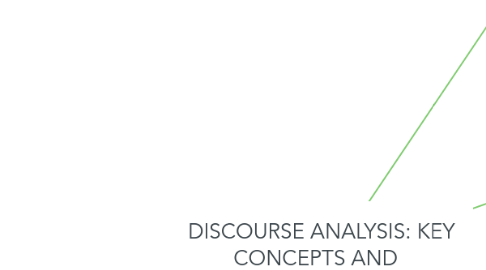 1. Discourse- Definition
1.1. Latin word 'discursus' which means a 'conversation'.
1.2. Lliterally defined as 'a serious speech or piece of writing on a particular subject.
1.3. Carter (1993) Discourse refers to the topics or types of language used in definite contexts.
1.3.1. The word 'discourse' stands for what is spoken, the word 'text' is what is written.
1.4. Nunan (1993) Discourse is a complete meaningful unit conveying a complete message.
2. Discourse Analysis
2.1. Formal or structural trend
2.1.1. DA is seen as the exploration of language use by focusing on pieces larger than sentences.
2.1.2. Schiffrin (1994) Discourse is a higher level in the hierarchy
2.1.2.1. Morpheme, clause and sentence
2.2. Functional in perspective
2.2.1. It is not so much concerned with intra-sentential relations as much as with language use
3. Why discourse Analysis?
3.1. It is plain to every one that any language user subconsciously possesses
3.2. the aptitude for constructing sentences out of their minor components
3.3. sounds, morphemes, words…
4. Context and the Analysis of discourse
4.1. Context can be approached from a linguistic angle, and this complies with the formal definition of discourse
4.2. The term 'co-text' is usually employed to refer to this particular sense of contex
5. The scope of Discourse Analysis
5.1. It is difficult to separate language from the rest of the world.