10.20: SA: Financial Analysis
by Dolphin Kiddies Entertainment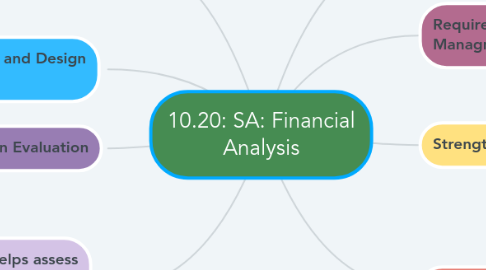 1. Business Analysis Planning and Monitoring
1.1. 3.1 Plan BA appraoch
2. Requirement Lifecycle Managment
2.1. 5.3 prioritize requirements
2.2. 5.4 assess requirements
3. Strategy Analysis
3.1. 6.1 analyze current state
3.2. 6.2 analyze future state
3.3. 6.3 assess risks
3.4. 6.4 define change strategy
4. Requirement Analysis and Design Definition
4.1. 7.3 validate requirements
4.2. 7.6 analyze potential value and recommend solutions
5. Solution Evaluation
5.1. 8.5 Reccomend actions to increase value
6. Tips: This technique helps assess the financial attributes of investment options so that a solution can be recommended.
6.1. Cost of Change
6.2. Total Cost of Ownership
6.3. Value Realization
6.4. Cost benefit analysis
6.5. Financial calculations: ROI, Discount Rate, Present Value, Net Present Value, IRR and Payback Period.
7. Strengths
7.1. Allows for more objective thinking
7.2. assumptions and estimates are clearly stated
7.3. reduces uncertainity about an investment
8. Limitations
8.1. some costs and benefits may be hard to quantify
8.2. may provide a false sense of security in the decision
8.3. quantification of future costs and benefits may be uncertain.