Australia
by María Peralta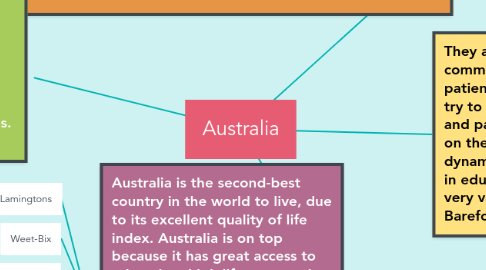 1. Australia is a continent and an island located in Oceania between the Indian Ocean and the South Pacific Ocean. It shares its name with the country that claims control over it. Australia's climate is generally very pleasant and mild. Most of the country receives more than 3,000 hours of sunshine a year! Being a very large continent, many areas are characterized by various weather conditions, depending on their latitude. Her nickname was Australia.
2. They are very open, they accept us as a community, they are friendly and above all very patient when you cannot speak English and you try to communicate with them: they listen to you and pay attention to you. The smallest continent on the largest island. One-third is desert. A dynamic and competitive labor market. Reference in education. Vegemite, the Australian food. A very varied and characteristic fauna of Australia. Barefoot.
3. Australia is the second-best country in the world to live, due to its excellent quality of life index. Australia is on top because it has great access to education, high life expectation and socioeconomic well-being. Australia's sporting culture has been passed through generations, making for a population deeply invested in cricket, rugby, Australian Rules Football, soccer, tennis and more.
3.1. Lamingtons
3.2. Weet-Bix
3.3. Pea and ham soup
3.4. Macadamia nuts Anzac biscuits
4. It's the Perfect Road Trip Destination It still Conserves Aboriginal Culture The Great Australian Weather The Beaches Its Nature and Wildlife. It Has the Largest Barrier Reef in the World Laid Back Culture and Over the Top Festivals. Its Incredible Cities.