DARE - СМЕТЬ
by Kar ina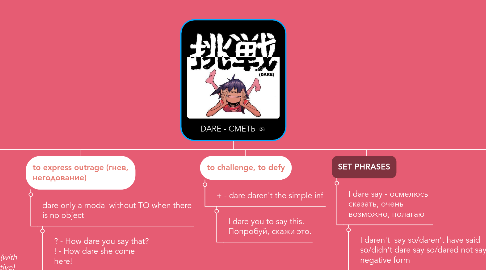 1. to have the courage to do smth
1.1. + dare/dared - the simple inf in the resent and the past indefinite tense
1.1.1. - daren't - dare not
1.1.1.1. I hardly dare tell him what happened (with negative adverb hardly, implied negative) Я едва осмеливаюсь сказать ему, что произошло.
1.1.1.1.1. ? Don't you dare to touch her? Did he dare to visit her?
2. SET PHRASES
2.1. I dare say - осмелюсь сказать, очень возможно, полагаю
2.1.1. I daren't say so/daren't have said so/didn't dare say so/dared not say so - negative form
2.1.2. I dare say he will come later - полагаю, он придёт позже
2.1.3. I dare say you are right - очень возможно, что вы правы
3. to challenge, to defy
3.1. + - dare daren't the simple inf
3.1.1. I dare you to say this. Попробуй, скажи это.
4. to express outrage (гнев, негодование)
4.1. dare only a modal without TO when there is no object
4.1.1. ? - How dare you say that? ! - How dare she come here!
5. After dare you can use the infinitive with or without TO
5.1. After daren't use the inf WITHOUT to