How does speaking English as an additional language have an impact upon an early years child?
by Meaghan Smith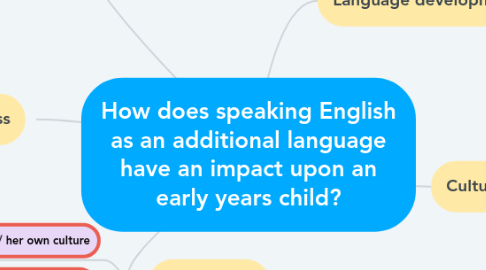 1. Social interactions
1.1. Interacting with teachers
1.1.1. Teachers with SEI training
1.1.2. Teachers without SEI training
1.2. Interacting with peers
1.2.1. In school
1.2.2. Outside of school
2. Cultural impact
2.1. Family attitudes toward "new" culture
2.2. How is culture impacted by new learning
3. Language development
3.1. Does a multilingual home discourage or encourage language development?
3.2. Expressive language delay in ELL students
3.3. Code mixing
4. Academic success
4.1. Short term success or struggles
4.2. Long term success or struggles
4.3. Accommodations required for success
4.4. Cognitive development
5. Self esteem
5.1. Child's feelings toward his / her own culture
5.2. Family acceptance of multilingualism
5.3. Peer responses to ELL child