Career-Choice Brainstorm
by Nadine Tull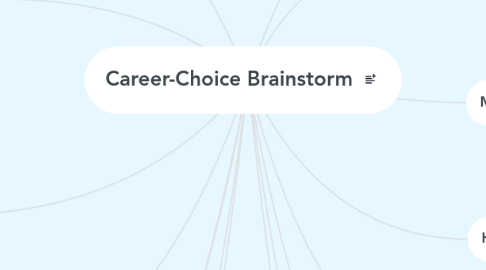 1. Health Science
1.1. medical specialization, hospital administration, disease management
1.1.1. Doctor, Nurse, Acupuncturist, Allergist & Immunologist, Anesthesiologist, Athletic Trainer, Biologist, Biomedical Engineer, Cardiovascular Technologist, Chiropractor, Clinical Data Manager, Clinical Research Coordinator, Cytotechnologist, Dental Hygienist, Laboratory Technician, Dermatologist, Epidemiologist, Internist, Social Worker, Midwife, Neurologist, Occupational Therapist, Optometrist, Pharmacist, Physical Therapist, Radiologist, Speech & Language Therapist, Urologist, Sports Medicine Physician
2. Finance
2.1. Banking, Insurance
2.1.1. financial analysts, bank manager and staff, broker, investment banker, investment analyst, financial planner, insurance agents
3. Information Technology
3.1. software programming, technical support, computer help desk support, network administration
3.1.1. Business Intelligence Analyst, IT Research Scientist, Computer Network Architect, Computer Programmer, Data Warehousing Specialist, Database Administrator, Search Marketing Strategist, Software Developer, Telecommunication Engineer, Videogame Designer, Web Administrator, Web Developer
4. Education & Training
4.1. teaching, academic administration, specialization training, user implementation instruction, corporate motivation
4.1.1. Curriculum Consultant, Curriculum Designer, Educational Content Developer, Private Tutor, Subject Specialist, Learning Specialist, Corporate Trainer, Software Trainer, Speaker, Conference Provider, Educational Courseware Developer, Implementation Expert.
5. Business Management & Administration
5.1. direct business operations/functions/ finance, line management, business consulting, directing operations in the capacity of CEO / VP of operations
5.1.1. Accountant, Auditor, Advertising Manager, Agent or Business Manager of Artists, Performers or Athletes, Art Director, Billing Manager, Budget Analyst, Chief Executive, Compliance Manager, Executive Secretary, HR Manager, Marketing Manager, Purchasing Manager, Spa Manager, Sustainability Specialist
6. Marketing
6.1. creative design, accounting, product marketing, business development, sales management, customer service, sales support, divisional sales operations management.
6.1.1. Real Estate Brokers / Appraisers, Customer Service Representative, Fashion Designer, Sales Engineer, Stock Clerk, Telemarketer Sales & Marketing Manager,
7. Agriculture, Food & Natural Resources
7.1. farming, energy and oil production and distribution, jobs in commodities, such as wood and animal products.
7.1.1. Animal Scientist, Cartographer, Photogrammetrist, Commercial Diver, Environmental Comnpliance Inspector, Environmental Engineer, Financial Manager, Food Scientist, Microbiologist, Health & Safety Specialist, Recycling Plant Operator, Water-Treatment Plant Operator, Zoologist/Biologist
8. Hospitality & Tourism
8.1. restaurant management, hotel management, hotel staff, tour guiding, travel guiding, operational management
8.1.1. Chef, Food & Beverage Manager, Property Manager, Guest Relations Manager, Director Of Housekeeping, Front Office Manager, Marketing & Public Relations Manager, Interpreter/Translator, Event Planner, (& Bridal Consultant) Travel Agent, Tour Operator
9. Science, Technology, Engineering & Mathematics
9.1. physical sciences and the natural world, design, production, and engineering of man made structures and technologies.
9.1.1. Natural Scientists Physicist, Research Scientists, Engineer (electrical, mechanical, structural, marine, etc), Anthropologist, Archeologist, Conservation Scientist, Environmental Economist, Geneticist, Hydrologist, Historian, Microbiologist, Nanotechnology Specialist, Physicist, Quality Control Analyst, Robotics Engineer, Solar Energy Systems Engineer
10. Architecture & Construction
10.1. design, engineering, physical labor, planning, management, drafting
10.1.1. Architects, Structural Engineer, Civil Engineer, Contractor, Infrastructure - Design Planner, Mechanical & Infrastructure Engineer, Draftsman, Electrician, Geothermal Technician, Interior Designer, Landscaping Company Owner, Solar Energy Intallation Supplier/Installation Expert, Surveyor
11. Government & Public Administration
11.1. *includes almost every profession* (finance, medicine, accounting, law, education, science, construction etc.)
11.1.1. Appraiser/Assessor of Real Estate, Climate Change Analyst, Detective/Criminal Investigator, Economist, Infantry Officer, Statistical Analyst
12. Law, Public Safety, Corrections & Security
12.1. law, paralegal work, judiciary work, legal consultation Security jobs, policing, and jobs involved in the correctional and prison system.
12.1.1. Criminal Justice & Law Enforcement Teacher, Forensic Scientist, Fire Department Chief, Intelligence Analyst, Judge/Magistrate, Detective, Probation Officer, Security Management Specialist
13. Manufacturing
13.1. *all careers involving the planning, production, producing, and design of end products*
13.1.1. Operations manager, Quality-Control Professional, Design Engineer, Systems Analyst, Supply Chain Specialists, Financial Operator
14. Transportation, Distribution & Logistics
14.1. airline industry, shipping, transportation service industries
14.1.1. Aerospace Engineer, Aircraft Mechanic, Aviation Inspector, Avionics Technician, Industrial Health & Safety Engineer, Logistics Analyst, Pilot
15. Human Services
15.1. social work/ case work, public planning project initiatives, specialist teachers (like learning specialists)
15.1.1. Social Worker, Childcare Worker, Education Director, Massage Therapist, Mental Health Specialist, Rehabilitation Counselor, Real Estate Manager, Sociologist, Substance Abuse & Behavioral Disorder Counselor
16. Arts, Audio/Video Technology & Communications
16.1. Broadcasting, Jornalism, Social Media, Audio-visual technology
16.1.1. Visual Artist, Actor, Dancer, Fine Artist, Graphic Designer, Art/Drama/Music Teacher, Audio/Video Technician, Broadcast News Analyst, Broadcast Technician, Copy Writer, Script/Film/Video Editor, Musician, Animator, Photographer, Producer, Singer, Reporter, Radio/Television Announcer