MIND MAPS (FREE TIME ACTIVITY )
by nohelia guangasi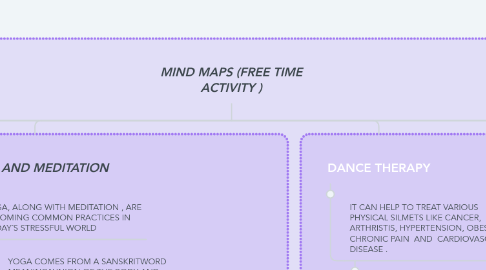 1. BIKE RIDING BENEFITS
1.1. THERE ARE FOUR ADVANTAGES TO SINSIDERAS WHEN USING A BIKE AS THE REGULAR MODE OF TRANSPORT
1.1.1. PERSONAL HEALTH BENEFITS,SOCIAL BENEFITS,COST BENEFITS AND ENVIRONMENTAL BENEFITS
1.1.1.1. BICYCLES DO NOT PRODUCE POLLUTION BICYCLES ANLY NEED A FRACTION OF A CAR SERIOUS BICYCLE ACCIDENTS ARE VERY FEW
1.1.1.1.1. TO SUM UP BY USING A BICYCLE IT´S POSSIBLE TO BUILD A WORLD FREE OF POLLUTION AND CONTRIBUTE WISH SMALL STEP TO SAVE THE EARTH
2. YOGA AND MEDITATION
2.1. YOGA, ALONG WITH MEDITATION , ARE BECOMING COMMON PRACTICES IN TODAY´S STRESSFUL WORLD
2.1.1. YOGA COMES FROM A SANSKRITWORD MEANING"UNION OF THE BODY AND MIND"
2.1.1.1. IT HAS MANY HEALTH BENEFITS
2.1.1.1.1. IT HELPS YOU TO RELAX AND IT REDUCES STRESS BY DECREASING ACTIVITY IN THE SYMPATHETIC NERVOUS SYSTEM
3. DANCE THERAPY
3.1. IT CAN HELP TO TREAT VARIOUS PHYSICAL SILMETS LIKE CANCER, ARTHRISTIS, HYPERTENSION, OBESITE CHRONIC PAIN AND CARDIOVASCULAR DISEASE .
3.1.1. IN CAN EVEN HELP WITH SOCIAL DISORDERS SUCH AS AUTISM AND TRAUMA CAUSED BY AGRESSION OR DOMESTIC VIOLENCE
3.1.2. IN A STUDY OF THE ARTS IN PSYCHOTHERAPY RESEARCH FOUND THAT DANCE THERAOY HAD A POSITIVE IMPORT ON PEOLPLE WITH DEPRESSION.
3.1.2.1. DANCE THERAPY HELPED DECREASE SOCAIL BEHAVIOR AMONG ADOLESCENTS
3.1.2.1.1. DANCE THERAPY IS VERY DIFFERENT FROM TRADITIONAL DANCE IT HELPS A LOT TO DESTRESS RELAX RELIEVE YOURSELF IT IS VERY GODD THAT YOU GO TO THERAPY IF YOU NEED
4. SOCIAL MEDIA HABITS
4.1. SOCIAL MEDIA HAS BECOME A PARF OF EVERYDAY LIVES PSYCHOLOGISTD AND DOCTORS SAY THAT WE NEED TO BE VEY CARFUL TO NOT LET OUR SOCIAL MEDIA CONTROL AOUR LIVES AND BECAME AN ADDICTION
4.1.1. BE CONSCIOUS OF WHAT YOU ARE DOING AND HOW YOU ARE SPENDING YOU TIME ON SOCIAL MEDIA
4.1.1.1. LIMIT YOUR TIME ON SOCIAL MEDIA EACH DAY
4.1.1.1.1. DON´T PLAY ATTENTION TO PEOPLE PAGES ,OR IMAGES THAT CAUSE YOU TO HAVE NEGATIVE FEELINGS
5. START AN ORIGAMI HABIT TODAY!
5.1. ORIGAMI IS AN ECVELLENT HOBBY TO SATRT IT IS ACCESSIBLE ANYTIME AND ANYWHERE ALL YOU
5.1.1. IT IS A PEACEFUL PASTIME THAT CAN BE TURNED INTO A FORM OF MEDITATION
5.1.1.1. THE WORD ORIGAMI CMES FROM TWO JAPANESE WORDS WHICH MEANS TO FOLD AND KAMI WHICH MEANS PAPER PEOPLE ARE NOY SURE OF ITS EXACT ORIGINS
5.1.1.1.1. IT IS AN ART THAT CONSISTS OF FOLDING PAPER WITHOUT USING SCISSORS OR GLUE TO ABTAION FIGURE OF VARIOUS SHAPES MANU OF WHICH COULD BE CONSIDERED AS PAPER SCULPTURES
6. A PASSION FOR SOCCER
6.1. THE 2018 WORLD CUP IN RUSSIA WAS WATCHED BY MORE THAN 4 BILLION PEOPLE THIS MEANS THAT MORE THAN HALF OF THE WORLD´S POPILATION WATCHED SOCCER´S GREATEST EVENT THAT YEAR
6.1.1. WHY IS SOCCER THE MOST POPULAR SPORT IN THE WORLD?
6.1.1.1. IT IS INTERNATIONAL
6.1.1.1.1. IS POPULAR