SIMPLE PRESENT
by Thayssa Ribeiro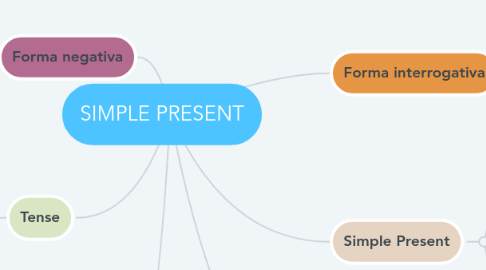 1. Simple Present
1.1. No presente simples, só se conjulga verbo na 3ª pessoa (He, She,It)
1.2. Verbos terminados em: O, S, X, SH, CH= +ES • VOGAL + Y = +5 •CONSOANTE Y = -Y+ IES
1.3. EXCESSÕES: TO HAVE E TO BE EXEMPLOS: (HE, SHE, IT) •TO LOVE -LOVES - TO SAY -SAYS . TO CRY -CRIES
1.4. • Peter BRUSHES his dog every Sunday • The baby CRIES a lot at night. • Pierre GOES to school in the morning. - I AM a calm person. Karina PLAYS volleyball twice a week. • Patricia and Monica often WATCH the News on TV. • Marina HAS a big Family. . My friends sometimes STUDY with a particular teacher. •Why Do you NOT TAKE a day off tomorrow?
2. Tense
2.1. • Indicar atividades ou ações realizadas no dia a dia. Lucy takes the bus to go to work every day. • Expressar fatos imutáveis. Man is mortal. • Expressar fatos do cotidiano trazidos por manchetes de jornais Pentagon wants to go to stars. • Realçar as qualidades de um produto ou serviço em anúncios publicitários. We want your ideas.
3. Forma interrogativa
3.1. DO/DOES + SUJEITO + VERBO PRINCIPAL+ COMPLEMENTO
4. Simple Present negative and interrogative forms
4.1. • As formas negativas e interrogativas do Simple Present são feitas com o verbo auxiliar DO, acompanhado do verbo principal no infinitivo sem to.
5. • (+) Roberto studies at home every day. .(-) Roberto doesn't study at home every day. • (+) Luciano explains every new word. • (-) Luciano doesn't explain every new word. .(?) Do you know how drive? . (?) Does she know how to play the guitar?
6. Forma negativa
6.1. SUJEITO + DO/DOES+NOT+ VERBO PRINCIPAL + COMPLEMENTO
6.2. I do not speak english. I don't run every day. She doesn't run on Mondays. He doesn't play video game. I don't watch TV. We don't run every day. They don't drink tea. You don't eat cake.