Twitter Learning Community Topics of Interest
by Scott Reese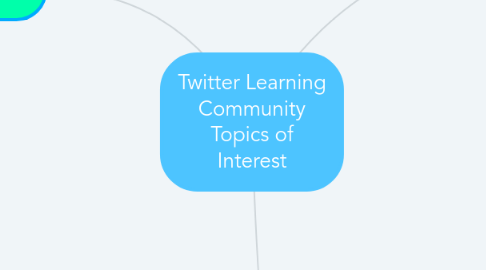 1. Classroom Tools
1.1. NewsELA
1.1.1. Articles on current events that are presented with assessment tools for easy integration into an ELA classroom. Offers content linking opportunities with Social Studies/History.
1.2. CommonLit.com
1.2.1. CommonLit is one of the tools I use in my own classroom, following the twitter page in order to get the latest updates, news, and details is logical for my purposes.
1.3. Flipgrid
1.3.1. Video sharing platform that allows students to easily respond to questions and prompts in a video format. Looking for updates that improve menu usability and clarity of features.
1.4. NoRedInk
1.4.1. Grammar formative and summative assessment platform. Following because I aim to advocate for my system to subscribe to this service.
1.5. Scholastic
1.5.1. My school utilizes Scholastic Action magazine in order to support remedial readers. Following Scholastic in hopes of seeing expanded lesson concepts and ideas.
2. Diversity & Inclusiveness
2.1. NEA (National Educators Association)
2.1.1. Resources regarding Equity in the classroom are very useful and ensuring that I follow organizations supporting diversity and inclusion is key.
2.2. ILA (International Literacy Association)
2.2.1. Getting an international perspective on literacy is beneficial towards multiple goals, but I consider it more in line with inclusiveness practices because I am aiming to support readers from all backgrounds.
2.3. Black Literacy Matters
2.3.1. An account focused on sharing news, articles, and resources for servicing African-American children and highlighting the efforts of Black educators. Getting more perspective from following them should help with my own instruction.
2.4. Teacher2Teacher
2.4.1. Allows teachers to connect through online communities. Connecting to other teachers, particular in urban areas where populations are more diverse, will help me gain perspective and knowledge to support a wider range of students.
2.5. The Leadership Conference
2.5.1. Civil rights are still an ongoing struggle in the United States. Supporting students of color and LGBT students is more crucial than ever, educating myself on the struggles of others is important.
3. Literacy Skills
3.1. LiteracyTrust
3.1.1. Literacy is a major focus in ELA content areas, any and all resources that I can find related to literacy are crucial.
3.2. School Library Association
3.2.1. Supporting our local and school libraries is a very actionable way to support literacy in one's community. Following for tips on how to build a good school environment which the library can be a focus of.
3.3. Ditch That Textbook
3.3.1. Looking for ways to utilize non-traditional lessons that do not require textbooks. Textbooks can be a useful tool, but adding variety to the classroom is also extremely important.
3.4. I Read YA
3.4.1. Account focused on young adult literature. Being familiar and knowledgeable with a wide range of YA literature should help me with text selection.
3.5. ReadWorks
3.5.1. Reading comprehension is one of the most challenging aspects of literacy to instruct. Despite being simple, just getting students to comprehend and retain information is a struggle. Thus I am looking for more proven strategies to support this aspect of learning.