Topic: trauma on Immigrant Children. (Why is this important to know?)
by Jorge N.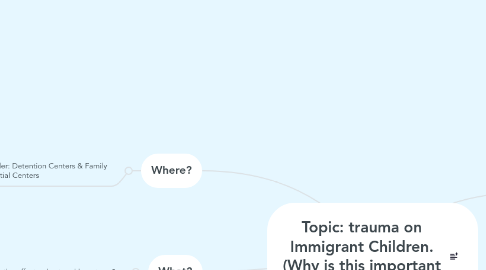 1. Who?
1.1. Immigrant children and US children of immigrant parents
2. What?
2.1. what disciplinary lens am i looking at this topic through: medical perspective? social work? MFT perspective?
3. Where?
3.1. US Border: Detention Centers & Family Residential Centers
4. What?
4.1. what are the effects, short and long term?
5. When? (what changes over time? compare to present?
5.1. 2016 to now: trump era
5.1.1. how was it in the past in comparison to trump era? how much stress did children endure during the process? how did society react to the issue?