My Final PLN: Inquiry Learning
by Lauren Giles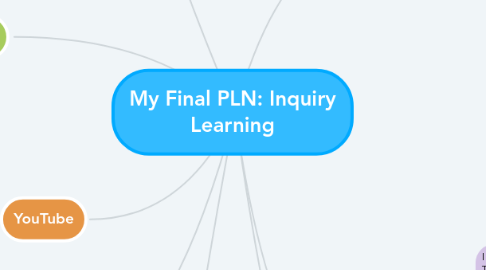 1. Instagram: Teacher Account
1.1. I am now following 770 accounts and have 940 followers, all who have some connection to the education sphere
1.2. I have made 2 new posts since beginning this PLN journey, sharing my 2021 classroom and discussing the differences between my old and current contexts.
1.3. I have now followed several new hashtags to expand my Inquiry-based learning PLN. These include #inquirybasedlearning #visiblethinking and #aussieteachers
1.4. Since beginning my PLN journey, I have increased my activity and presence on the account in terms of sharing my personal content. I have continued to scroll through the application daily and watch stories of my followers. I now view the reels posted as well as use the hashtag feature more to connect with those educators who are on a similar journey to myself.
1.5. I have several connections with teachers from all around Australia and the world. Discussions are had sporadically though and are more for when I am seeking out a specific resource or activity idea
1.6. I have now made my account a professional account, where I have the opportunity to view my analytics and insights. I have also added a link to my blog post in my Instagram bio, which was a very big step for me.
2. Facebook
2.1. I am a member of 'Australian Year Five Teachers', which currently has 5 300 members. These members are very active, with there being multiple posts a day.
2.2. Similar to my Instagram account, I have not shared content to this page as of yet but have taken resources from users.
2.3. Other groups that I am a member of include "PYP Inquiry Based Mathematics", "Kmart Teachers Australia", "Reading Science in Schools" and Learning Walls Pedagogy". These groups have between 9 000 - 72 000 members, These groups also have daily content being shared and discussed.
3. Podcasts
3.1. I am currently subscribed to one education-related podcast. The content discussed on this podcast is quite light-hearted and very different to the more scholarly and insightful information shared in the Facebook groups and Instagram accounts.
4. YouTube
4.1. I am currently subscribed to three teachers who share content in the form of vlogs, such as "Day in a life of an Australian Teacher" and "Guide to my Spelling Lessons" etc.
4.2. These users typically post a handful of times each month. Many of the viewers have found these videos from their Instagram accounts and so the network of people is very similar.
5. School Communities
5.1. I currently teach at a large primary school just outside of the Brisbane region. There are five other year five teachers on my team. We are very collaborative, sharing our planning with one another on OneNote and discuss any issues we have via Facebook Messenger.
5.2. I am also in contact with my colleagues from my previous school in Central Queensland. We regularly discuss and reflect on our practice via Facebook Messenger and in person where possible.
5.3. We have begun having weekly PLC meetings and fortnightly team meetings. These are great opportunities to discuss curriculum, learners and concerns in depth without any distractions.
6. LinkedIn
6.1. I made a LinkedIn account several years ago but did not use it regularly. Starting this journey, I have been more active on the platform, connecting with more educators, posting a link to my blog post and commented on others posts to expand my network.
7. Blogs
7.1. Blogs were the very first online platform that I interacted with on my PLN journey. I found it very easy to google inquiry-based learning and then explore the various blogs that I found through my searches.
7.2. LearningbyInquiry was my favourite blog that I found. The amount of practical information, resources and imges on the blog was endless. It also inspired me to then write my own post and further explore the Inquiry sphere in my current teaching context.
8. Twitter
8.1. Similar to other platforms, I had a Twitter account but never used it. Using TweetDeck helped me immensely to focus on the Inquiry-based learning content, as well as the discussions with my peers for this unit.
8.2. I began my Twitter journey by following a large amount of hashtags, as well as teacher accounts to expand my PLN. Following @KathMurdoch was an excellent way to focus on Inquiry learning.
8.3. I found posting tweets far easier and less overwhelming than other platforms and so I will definitely be continuing to use Twitter in the future.