50 Species Challenge
by Jenny Geesey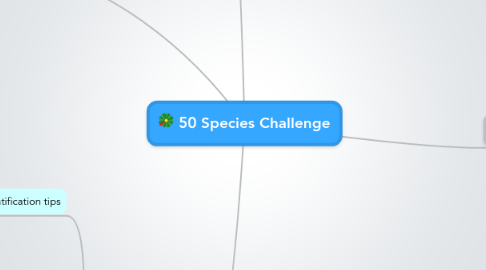 1. Submitting Records
1.1. Save as PDF
1.2. Save in DB folder shared with Ms. G
1.3. Also save as Word doc to make updates or edits later
1.4. Due Dates
1.4.1. Qtr 1: Oct. 4/5 (10 species)
1.4.2. Qtr 2: Dec. 6/7 (15 species)
1.4.3. Qtr 3: March 7/8 (15 species)
1.4.4. Qtr 4: May 23/24 (10 species)
2. Helpful Hits
2.1. Identification tips
2.1.1. Google Images is your friend.
2.1.2. Make sure the range is correct for the organism. If it is found only in the western US, you ID is probably wrong.
2.1.3. Detail, detail, detail!! Pay attention to size, number if leaves, subtle colorations, etc.
2.1.4. See Resources on Schoology for links to field guides and identification sites.
2.2. General Tips
2.2.1. DO NOT WAIT UNTIL THE LAST MINUTE!!
2.2.2. ALWAYS keep an eye out for something new.
2.2.3. Get your family and friends involved! Good naturalists do not work alone.
2.2.4. Try to choose plants that are flowering to make identification easier.
2.2.5. Pace yourself- do two species per week, every week and submit them.
2.3. Tips for Observing
2.3.1. Take a picture
2.3.2. Note time of day and weather
2.3.3. Note details of habitat or area where the organism was found
2.3.4. Make notes about behavior of animals
3. Organism Requirements
3.1. Insects or spiders (at least 8)
3.1.1. Picture required for non-flying (must have at least 4 pictures of insects)
3.1.2. Image req. for flying
3.1.3. Food source or diet
3.1.4. Sex
3.1.5. Web description for spiders
3.1.6. Niche (pollinator/pest/parasite etc.)
3.2. Non-bird animals (5-10)
3.2.1. Diet
3.2.2. Sex
3.2.3. Range
3.2.4. Picture or image
3.3. Birds(5-10)
3.3.1. Picture or Image required
3.3.2. Diet
3.3.3. Resident/migratory
3.3.4. Range
3.3.5. Sex
3.3.6. Identifying marks
3.4. Plants (10-25)
3.4.1. No more than 5 trees
3.4.2. No more than 5 garden plants
3.4.3. Picture required
3.4.4. Flower and/or seed
3.4.4.1. Picture or description
3.4.5. Niche (what eats it/depends on it)
3.4.6. Native?
3.4.7. Range
3.4.8. Identifying characteristics
3.5. Fungi (at least 3)
3.5.1. Picture required
3.5.2. Ecosystem function (what does it break down or infect?)
3.5.3. Identifying marks
4. Learning Objectives
4.1. Learn to observe the world around you in an organized manner
4.2. Learn to use field guides and the web to identify organisms
4.3. Be able to identify at least 50 new species found in our area
4.4. Learn to report observations in an organized manner