The First Constitution
by Heidy Carrión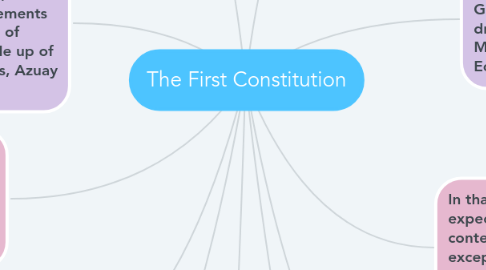 1. The first title of the constitution was comprised of articles 1 to 13 divided into three sections, and defined the constituent elements of the newly created State of Ecuador. The territory made up of the departments of Guayas, Azuay and Quito was defined.7
2. Indigenous people, for their part, obtained certain rights with the Agrarian Reform of 1973, but their full insertion into society only occurred in the 90s of the 20th century.
3. The first constitution of Ecuador was in the year 1830
4. the Departments of the then Southern District, namely: Guayas, Quito and Azuay, to draft what would be the First Magna Carta of the Republic of Ecuador
5. The constitution of 1830 was in force during the first period of government of Juan José Flores, until 1835 in the presidency of Vicente Rocafuerte
6. The official religion of the State was Catholic, too, that to be a citizen you had to have an established amount of income, be married or over 22 years of age, and not be a servant.
7. One of the main problems that the nascent Ecuadorian state had was the large presence in it of foreigners, especially Venezuelans, due to the recent independence proces
8. In that Magna Carta, as was to be expected, no rights were contemplated for the natives, except that they should be protected by the priests. Nor did women have a voice
9. The woman, on the other hand, although with Alfaro she got some recognition, in reality her true vindication came with the fight of Matilde Hidalgo, who got the female vote.
10. It was with time that a real and equitable State was being configured.
11. Rocafuerte, quien estableció los primeros códigos legales; Urbina, quien dio libertad a los afrodescendientes y sobre todo Alfaro, quien instauró el Estado Laico;