SMART VENDING MACHINE
by Carla Salazar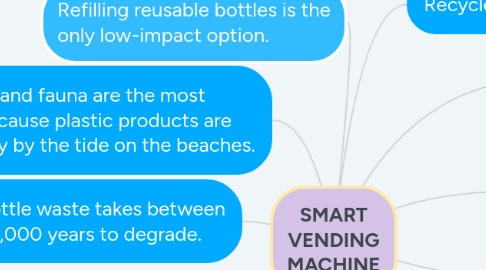 1. Recycle or reuse plastic bottles.
2. End the addiction of plastic products and contribute to healthier lives and a cleaner planet.
3. The oceans and fauna are the most affected because plastic products are washed daily by the tide on the beaches.
4. Plastic bottle waste takes between 100 and 1,000 years to degrade.
5. Improve the corporate image of the companies that start the project.
6. Encourage the practice of responsible consumption.
7. We will save a significant amount of natural resources.
8. Protect our aquifers and preserve the natural habitat of many species.
9. The cleaning and disinfection category is high penetration at the moment.
10. The costs would be affordable for the people.
11. Refilling reusable bottles is the only low-impact option.
12. It's a way to get the habit in people to try other sustainable options like swap disposable plastic bags with reusable bags.