Twitter PLN Map
by Daniel Merritt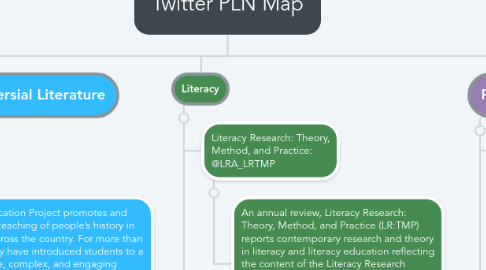 1. Literacy
1.1. Literacy Research: Theory, Method, and Practice: @LRA_LRTMP
1.1.1. An annual review, Literacy Research: Theory, Method, and Practice (LR:TMP) reports contemporary research and theory in literacy and literacy education reflecting the content of the Literacy Research Association (LRA) Annual Meeting. The articles in LR:TMP promote discussion and constructive critique about key areas of research.
1.2. The Journal of Language and Literacy Education: @Jolle_uga
1.2.1. The Journal of Language & Literacy Education is a peer-reviewed, open access journal housed in the Department of Language & Literacy Education in the College of Education at The University of Georgia. Since its inception in 2004, JoLLE has provided a space for scholars to engage readers in a broad spectrum of issues related to the field. As an online journal, they encourage submissions that incorporate multiple modes (e.g., photographs, artwork, video, and graphics).
1.3. International Literacy Association: @ILAToday
1.3.1. They publish cutting-edge research translated into practical resources for educators and students; set standards for literacy professionals and teacher education programs; appreciate educators through awards and grants; and vigorously advocate for funding and policies supporting the literacy needs of school systems, teachers, and students across the globe; and provide impactful professional development and learning experiences through digital events.
1.4. The National Writing Project: @writingproject
1.4.1. Educators connect through local Writing Project sites and online networks. Currently, 175 local Writing Project sites are housed on college campuses across the nation. Collectively, they prepare 2,500 new teacher-leaders each year. These new leaders join a dynamic and active network of leaders who work with 95,000 colleagues annually in classrooms, libraries, museums, national parks—virtually any space where young people learn, read, and write—ultimately strengthening the writing and thinking of 6 million students, pre-K through college, each year.
1.5. National Council of Teachers of English: @NCTE
1.5.1. Through collaboration and community, shared stories and shared experiences, NCTE supports teachers and their students in classrooms, on college campuses, and in online learning environments. For more than 100 years, NCTE has worked with its members to offer journals, publications, and resources; to further the voice and expertise of educators as advocates for their students at the local and federal levels; and to share lesson ideas, research, and teaching strategies through its Annual Convention and other professional learning events.
2. Poetry/Music
2.1. Poetry School: @PoetrySchool
2.1.1. Poetry courses & workshops throughout England & online across the world. With teaching centers across England, as well as online courses, development initiatives, poetry projects and the world's biggest social network dedicated to poetry – CAMPUS – Poetry School is unique in their ability to reach and develop aspiring poets wherever they may be.
2.2. Poetry Education: @PoetryEducation
2.2.1. The education team @PoetrySociety. Supporting teachers and young people to discover and create great writing. Education is at the heart of what they do – including sharing free poetry lesson plans with teachers worldwide on their website.
2.3. teachrock.org: @TeachRock
2.3.1. TeachRock is a free online educational resource presented by Steven Van Zandt's Rock And Roll Forever Foundation. TeachRock is a standards-aligned, arts integration curriculum that uses the history of popular music and culture to help teachers engage students.
2.4. Poetry Foundation: @PoetryFound
2.4.1. Publisher of @poetrymagazine, an independent literary organization committed to a vigorous presence for poetry in our culture. The Poetry Foundation works to raise poetry to a more visible and influential position in our culture. The Foundation seeks to be a leader in shaping a receptive climate for poetry by developing new audiences, creating new avenues for delivery, and encouraging new kinds of poetry.
2.5. National Association of Media Literacy Education: @MediaLiteracyEd
2.5.1. National Association for Media Literacy Education is dedicated to media literacy as a basic 21st Century life skill. Media literacy is the ability to identify different types of media and the messages they are sending. This is crucial for decoding music as poetry through song lyrics.
3. Diverse/Controversial Literature
3.1. Zinn Ed Project: @ZinnEdProject
3.1.1. The Zinn Education Project promotes and supports the teaching of people's history in classrooms across the country. For more than ten years, they have introduced students to a more accurate, complex, and engaging understanding of history than is found in traditional textbooks and curricula. Their website offers free, downloadable lessons and articles organized by theme, time period, and grade level.
3.2. LGBTQReads: @LGBTQReads
3.2.1. LGBTQ Reads is a site dedicated to promoting curated LGBTQIAP+ literature for all ages.
3.3. WeNeedDiverseBooks: @diversebooks
3.3.1. We Need Diverse Books is a non-profit and a grassroots organization of children's book lovers that advocates essential changes in the publishing industry to produce and promote literature that reflects and honors the lives of all young people. They recognize all diverse experiences, including (but not limited to) LGBTQIA, Native, people of color, gender diversity, people with disabilities, and ethnic, cultural, and religious minorities.
3.4. Social Justice Books: @sojustbooks
3.4.1. Teaching for Change developed SocialJusticeBooks.org in 2017 to identify and promote the best multicultural and social justice children's books, as well as articles and books for educators. It builds on the tradition of the Council on Interracial Books for Children which provided a social justice lens to reviews of children's literature.
3.5. Center for Antiracist Education: @antiracist_ed
3.5.1. Equips antiracist educators and advances antiracist curriculum. Their vision is that every student has access to effective, research-based antiracist learning materials and to educators who are able to teach and lead the way to an antiracist future.