open-source natural building based semi-modular Eco-Village for open healing Organic-Economy Willing to support? Please contact Wael Al Saad: globalpalestine@gmail.com SKYPE wael.alsaad or visit http://www.wiserearth.org/resource/view/f529bcd0176bb10a8898c78188534d71
by
Wael Alsaad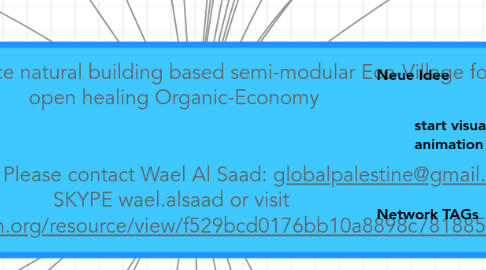 5.0
stars -
1
reviews range from
0
to
5
Introduction of "HOME" as nexus indigenous trade mark for local and international Sales
Network TAGs
Awaken Inelegance
Human Dignity and Security
Whole Communities
Transliteracy
Low Carbon Architecture/Economy/Society
Principles guide our purpose
Sources: http://www.conservationeconomy.net/pattern_map/index.html http://www.corporation2020.org/ http://www.wiserearth.org/issues http://www.aboutus.org/3DN_Community_Investment_Enterprises
Ethical
Promoting creative thinking and advancing knowledge of the profession by increasing competency, and promoting ethical practices.
Functional
Embodying a culture of diversity, openness and collegiality among students and faculty by developing a continuous, dynamic, planning and implementation models
Social
Ecological
Economical
The purpose
Foundation of Integrated Communal Ecosystems for Production in "Palestine"
Ecosystem is everything in the environment (physical and biological components) that supports life in an interrelated manner. The whole system forming the environment.  
Oxford 360-sustainability-model: Minmize negative impact (site, connection to site) improve postive impact (local, global supply/givingback chain)fgfgf  
Production
Agriculture, Farming and Wildness
Community Arts
Industry and businesses
Rainwater filter, collector, managment and storage
Raw material
Animal Food
Composting, Recycling
Regenerative Energy Systems
Ecotourism and wellness
Indigenous handcraft
Indigenous Architecture
Consulting and Solutions
Fashion
Theater
Radio
TV
Film
Deparments
I Principia and Legacy
I, II and III are co-centric circles. All other specific operational departments are sectors out of the three internal rings.  
II Research, Innovation and Development RID
III Management and ITC
Logistics, Distribution
Production&Industry
Supply Chain Quality Mngm
e-Commerce, Finance, Sales and Marketing
Internationalization
Palestinian communities in West countries as agents for "The EARTH products": Social-Communal Franchising
Community Development
Bank .. later community currency
Resources
Cal-Earth Institute
List of Palestinian potential partners
Motivation
Practical investment of Palestinian collective intelligence and capacities
Realistic Building of Palestine and the Palestinian nation
Make use of eco-social gravity
Prevent the Palestinian Heritage
Through re-investmenet, the production parks to get expanded into living systems for economic- and self-development
Open Questions
http://www.sekem.com/
How to grant political support
How to start fundraising
Strategy
set up an interim collaborative environment
To Do's
Business carried and developed by 12 domains
1. Nutrition food, agriculture, farming
2. Ecosystem stability, preservation, restoration
3. Un/Learning qualification, self-empowerment
4. Energy independence, efficiency, renewable
5. Habital land use, community needs, Architecture
6. Wellness high quality of life,health
7. Resources availability, extractionusage, conversation,recycling
8. Waste elimination,re-use
9.Governance policy making: equity, co-creative
10. Businesses all possible practices balanced, completeness,meaningful work,appropriate tech.
11. Art cultural views,heritage
12. Affinity community development global supply/giving-back chain
13. Logistics and Transportation
Neue Idee
Network TAGs