IMGLoader
by Sam Granger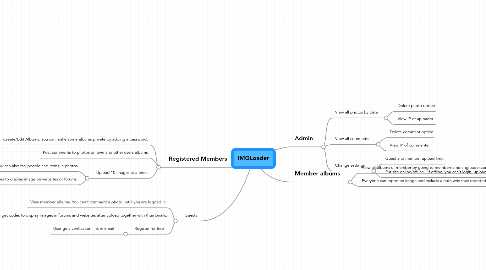 1. Admin
1.1. View all photos by date
1.1.1. Delete photo option
1.1.2. View IP of uploader
1.2. View all comments
1.2.1. Delete comment option
1.2.2. View IP of commenter
1.3. Change settings
1.3.1. Guest and member upload limit
1.3.2. Put site online/offline - If offline, you can't login, upload or view albums. You get a site offline message which can be changed easily.
2. Registered Members
2.1. Create/Edit Albums. You can make some albums private by adding a password.
2.2. Post comments to photos on own and other users albums
2.3. Upload 10 images at a time.
2.3.1. After uploading, you can sort images by album if not done already. You can also tag people and items in photos.
2.3.2. After uploading, you see the thumbnails and various codes to display image on websites or forums.
3. Member albums
3.1. View all albums of member by going to membername.imgloader.com. Everyone (guests and members) can view all albums unless its password protected - in that case you need password
3.2. Everyone can report an image and include a note why they reported image.
4. Guests
4.1. View member albums. You can't comment a photo untill you are logged in.
4.2. Upload 5 images at a time. You get codes to display images in forums and websites after upload together with thumbnails.
4.3. Register for free
4.3.1. User gets verification link in email