SUBJECT AND VERB AGREEMENT
by Cindy Ngân Vũ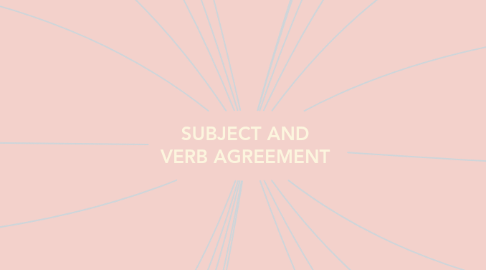 1. Noun and Noun (chỉ 2 đối tượng khác nhau)
1.1. Water and oil do not mix together.
1.2. Bread and butter are popular in Western countries.
2. A number of + N (số nhiều)
2.1. A number of boys are swimming.
3. Some, a few, both, many, several + N (số nhiều)
3.1. Some books I read yesterday are famous.
3.2. Many students don't know how to do this difficult exercise.
4. The + N (chỉ 1 nhóm người)
4.1. The rich are not always happy.
4.2. The injured were rescued after the flood.
5. The number of +N +V(s/es)
5.1. The number of students in our class is 50.
6. DT chỉ tập hợp 1 tâp thể
6.1. Sau đó chỉ trạng thái ( V số ít)
6.1.1. My family has three members.
6.2. Sau đó chỉ hành động (V số nhiều)
6.2.1. My family were watching TV.
7. Many a Noun
7.1. Many a student was late.
7.2. Many a book is selected to exhibit.
8. Đại từ bất định: Everything, Something, Anything, Everybody, Somebody, No one, who, what...
8.1. Everything looks bright and clean.
8.2. Who wants tea?
8.3. What has happened?
9. Each, Every, Either, Neither + (of) N
9.1. Every book I read last week was useful.
9.2. Each boy and each girl works indepently.
9.3. Each of a children has a toy.
10. Mệnh đề, V-ing, to V làm chủ ngữ
10.1. Mastering English is not easy.
10.2. What he told was untrue.
10.3. That you got high grades is important.
11. Thời gian, tiền bạc, khoảng cách, trọng lượng
11.1. Fifty dollars seems a reasonable price.
11.2. Four months is a long time to wait to hear from him.
12. DT chỉ tin tức, môn học, bệnh, đất nước...
12.1. Physics is the most difficult subject.
12.2. Brussels is a beautiful country.
13. Danh từ chỉ cùng 1 người hoặc 1 vật
13.1. The singer and the composer is performing tonight.
14. Danh từ không đếm được
14.1. The furniture is more expensive than we thought.
14.2. There is accommodation for all of us.
15. Noun 1 +giới từ + Noun 2 (dựa vào Noun 1)
15.1. A box of cigarettes contains 20 pipes.
15.2. Two cups of coffee are used up.
16. Either S1 or S2 + V (dựa vào S2) Neither nor Not only but also
16.1. Not only my brother but also my two sisters are studying.
16.2. Neither the students nor the teacher knows the solutions.
17. Phân số / +N số ít --> V số ít Phần trăm +N số nhiều -> V số nhiều
17.1. A quarter of this book is written in English.
17.2. Half of the tables are occupied.
18. No + Noun số ít --> V số ít + Noun số nhiều --> V số nhiều
18.1. No example is right in this case.
18.2. No examples are right in this case.
19. All, some, none, plenty Half, most, the rest A lot, lots, the majority +of+ N số ít/Uncountable N --> V số ít + N số nhiều --> V số nhiều
19.1. A lot of coffee has been sold.
19.2. None of the boys are good at maths.
20. S1 as well as S2 +V (dựa vào S1) together with along with with in addition to accompanied by no less than
20.1. Mr.Smith, as well as his children, jogs every morning.
20.2. The professor accompanied by his two students has come to the court.
21. ĐỘNG TỪ CHIA SỐ ÍT
22. ĐỘNG TỪ CHIA SỐ NHIỀU
23. ĐỘNG TỪ CÓ THỂ SỐ ÍT HOẶC NHIỀU