MOTIVATION
by Ani Punina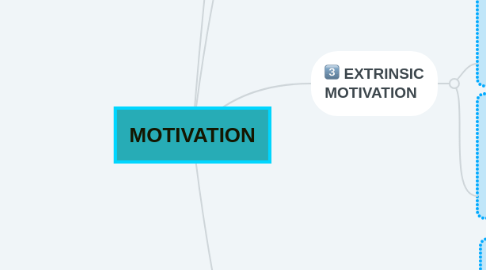 1. WHAT IT IS?
1.1. Motivation is to encourage people to achieve some goal and it is also an internal process that encourages people to do things well with great faith and happiness.
2. EXTRINSIC MOTIVATION
2.1. It refers to the fact that you are motivated by some external factor that you must do something to meet some objective or learn something new. With the instrinsic motivation you get a reward or to avoid some punishment or a bad reaction.
2.2. EXAMPLES: 1. When people study very hard to avoid being punished by their parents. 2. Going to work because you want a lot of money.
3. INTRINSIC MOTIVATION
3.1. It means that when carrying out an activity we do it because we want to do it without any reward. Their behavior is motivated by themselves and they have the desire to learn or do something new.
3.2. EXAMPLES: 1. Playing sports because it makes you happy. 2. Using positive affirmations because you want to grow your self-love.
4. HOW TO MOTIVATE MY FUTURE STUDENTS?
4.1. First, it depends on the ages of my students and there I can define the activities. In addition, it is important to be a good teacher, to be understandable with the students, to have a good attitude, to create a good work environment and to have confidence among all but setting limits.
4.2. Children activities: 1. Start classes with songs and dance. 2. Give star stickers every time they voluntarily participate in class. 3. Give a reward to the students with the most stars. 4. Ask what they would like to do for fun and I do the activities in English.
4.3. Activities for teenagers and adults. 1. Start classes with games to give feedback from the previous class. 2. Make working groups and that between them they can play to earn extra points. 3. Give a reward to high achievers. 4. Always motivate them and grow their self-esteem in a good way.