HAMMAN SPA, KL
by Siti Illhani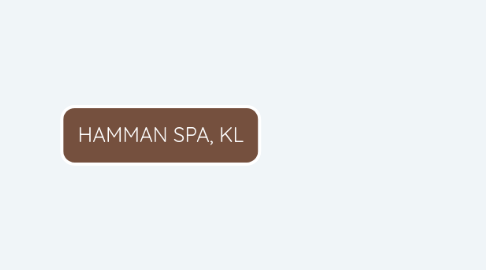 1. Planning and management
1.1. Impacts
1.1.1. Lack of therapists that expert regarding hammam spa, so it will be a lot of job opportunities for people.
1.1.2. New architectural styles where the hammam spa uses a concept from the country of morroco.
1.1.3. Park and gardens will exist because hammam spa has used natural ingredients like henna leaf, argan oil and others.
1.2. Planning at National, Region & Local Level
1.2.1. Because the hammam spa has been famous in Morocco, so that, it can attract overseas customers to visit.
1.2.2. Hammam Spa was built in Kuala Lumpur where it is the capital of Malaysia and is the focus of the public. So, they can attract customers from various categories of people.
1.2.3. Malaysians love to pamper themselves and relax after a tiring day of work. So, they just need to go to the spa to relax.
1.3. Planning & Development at Site Level
1.3.1. To make people feel soothing warmth and comfort and releasing all tension and cares of everyday life.
1.3.2. The selection of a strategic location to build a spa is very important to attract customers where the Hammam Spa has been built inside the mall. This can make it easier for people to get treatment and do not have to wait to go to the hotel just to get this treatment.
1.3.3. The spa is comfortable for users and this spa uses a concept from the country of Morocco as this spa looks luxurious and surrounded by beautifully heated Moroccan tiles.
1.3.4. Service provided to customers is very satisfactory
2. Managing health tourism destination and sites
2.1. Geographical Aspects
2.1.1. Need to find a quiet and peaceful place
2.1.2. Should find a place that closes to the area to get natural ingredients so that the spa will always receive the natural ingrediends.
2.1.3. Need to refer to the department of health to monitor services provided.
2.2. Assets & Site Specific Aspects
2.2.1. Facing with high maintenance as it is a water-based spa.
2.2.2. Face a problem with a lack of experience customers and it will cause a problem with the procedure and process of the treatment.
2.3. Managing Visitors' Expectation & Experiences
2.3.1. Hire skilled workers to assure customer that the staff are actually skilled and experienced.
2.3.2. The workers need to expert with law and regulation given for the development of spa.
2.4. Specific Management Issues
2.4.1. Having a problem with hammam spa is not well-known. So, the staff needs to share the benefits of the hammam spa on social media.
2.4.2. Having a problem with how to serve the customer and entertain customer all day long. The staff should be well-trained in how to interact with customers.
2.4.3. Having a problem with some people does not like sharing water and soap with other people so that this spa need to build small pool just to fit one person in it.