New supporter joins online or takes an action
by Michelle Shackleton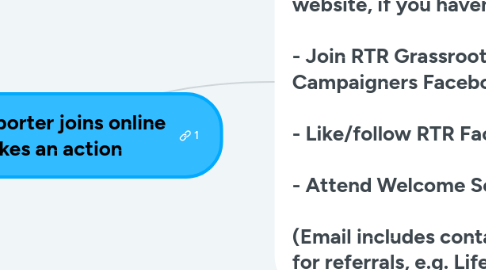 1. Receives an email with an invitation to: - Share your story on the RTR website, if you haven't already - Join RTR Grassroots Campaigners Facebook Group - Like/follow RTR Facebook - Attend Welcome Session (Email includes contact details for referrals, e.g. Lifeline)
1.1. All new supporters get added to the mailing list:
1.1.1. First eDM will be a low-barrier ask, e.g. email your MP
1.2. All new supporters get invitation to fortnightly Welcome Sessions (for first two months).
1.2.1. Attends a Welcome Session (see separate document)
1.3. If the supporter has identified they're willing to talk to media:
1.3.1. Michelle (was Caro) reaches out to them
1.3.1.1. Get invitation to monthly Introduction to Doing Campaign Media training (max 10 people)
1.3.1.1.1. Attend media training
1.4. If the support has joined the RTR Grassroots Campaigners Facebook Group, they will see the invitation to the fortnightly grassroots campaigners meeting.
1.4.1. Attend a grassroots campaigners meeting
1.4.1.1. Added to RTR Campaigners Google Group
1.5. If supporter submitted a story:
1.5.1. Michelle connects with them, and if relevant, gets second permission to share their their on social media AND an invitation to attend a Welcome Session
2. Individual member sign ups on ACOSS website