ICT
by Maria Paula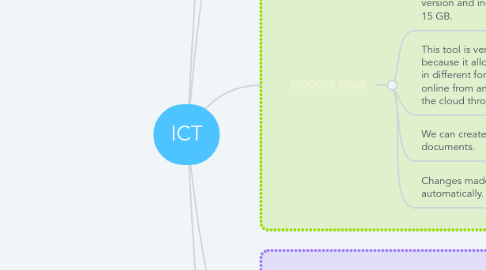 1. GOOGLE CLASROOM
1.1. Google Classroom is Google's tool for education. It is a platform that allows you to manage what happens in the classroom online, in a collaborative way.
1.2. This tool allows managing distance or mixed learning (semi-face-to-face), in which the educational community can access from different devices, facilitating access regardless of the place or time.
2. GOOGLE
2.1. It is the set of digital tools that Google puts at the service of Educational Centers to enrich the teaching and learning processes.
2.2. Its ease of use and versatility provide access to learning to millions of students around the world, who have it free and secure.
3. GOOGLE DRIVE
3.1. Google Drive is the Internet data storage service provided by Google in its free version and includes a storage capacity of 15 GB.
3.2. This tool is very useful for students, because it allows us to create documents in different formats, work the same file online from any device simply by accessing the cloud through our email
3.3. We can create folders to organize documents.
3.4. Changes made to a document are saved automatically.
4. DROPBOX
4.1. It will always be available on the Internet
4.2. It must be installed on the PC
4.3. We link it to an account.
4.4. A folder creates automatically
4.5. It syncs automatically.
4.6. Allows the use of 10 GB of space.
4.7. If you need more space, you can afford it.
5. SYMBALOO
5.1. Free platform.
5.2. Organize and categorize web links.
5.3. Works like a browser.
5.4. It has a page in the form of a grid.
5.5. It has different option buttons.