What is the significance of the War of 1812
by Rheanna Uy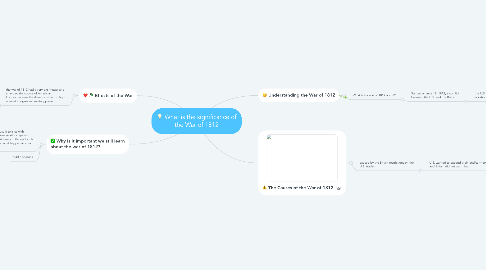 1. Understanding the War of 1812
1.1. What is the war of 1812 about?
1.1.1. Started on june 18, 1812; a conflict between the U.S. and the British.
1.1.1.1. the U.S. and Britain fought over British violations of the U.S.
1.1.1.1.1. the war ended in February 17, 1812
2. The Causes of the War of 1812
2.1. caused by the British restrictions on the U.S. trades
2.1.1. U.S. wanted to expand their land/territory and Britain did not want that
3. Effects of the War
3.1. the war of 1812 had a very big impact and changed the course of Americian History because the Americans had to fight against the greatest military power
3.1.1. This gained international respect towards the U.S.
4. Why is it important we still learn about the war of 1812?
4.1. it is important because it tells us with information the lessons relationships and The different war outcomes in the end such as who won who lost what happened after the war
4.2. public opinons