Professional Learning Networks
by Emily Ruebel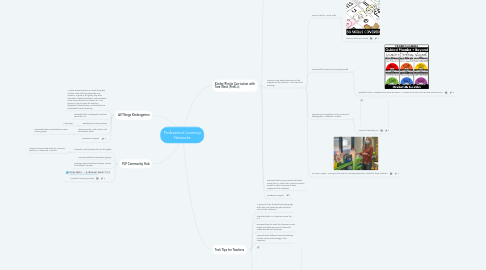 1. Kinder/Firstie Curriculum with Tara West (PreK-2)
1.1. KinderCurriculum/FirstieCurriculum is a group formed as a way to help teachers collaborate and gain ideas for all Tara West curriculum units (Preschool, Kindergarten, First Grade, and Second Grade).
1.2. Learned more about resources to help supplement the initiative "The Science of Reading".
1.2.1. Sound Walls vs. Word Walls
1.2.1.1. Phonics Skill Focus Cards
1.2.2. Purchased the Science of Reading Bundle
1.2.2.1. Guided Phonics + Beyond GROWING BUNDLE: A SCIENCE OF READING BASED CURRICULUM
1.2.3. Signed up to complete a PD for Science of Reading with 7 Different Modules
1.2.3.1. Science of Reading PD
1.2.4. No more 'magic.' Training in the science of reading has been a relief for these teachers.
1.3. Discussed with Primary Grade Educators across the U.S. about Tara West Curriculum as well as other resources to help supplement her creations
1.4. Facebook Gruppen
2. Tech Tips for Teachers
2.1. A group to share the best technology tips and tricks and hope they add immense value to the classroom.
2.2. Interacted with K-12 teachers across the U.S.
2.3. Discussed how to make the classroom more digital and what resources to utilized to maximize best tech practices
2.4. Learned about different online workshops to help enhance technology in the classroom
2.5. Tech Tips for Teachers
3. All Things Kindergarten
3.1. A place where teachers can share thoughts and fun ideas and be inspired by one another! Anyone in the group may start education related discussions, ask questions, share funny stories and memes, etc. This group is a go-to group for teaching inspiration, ideas, stories, and discussion to make better kinder teachers!
3.2. Interacted with Kindergarten Teachers across the U.S.
3.3. Best behavior tool practices
3.3.1. Class Dojo
3.4. Literacy Center, Math Center and Intervention Ideas
3.4.1. Discussed bests manipulative to use in center groups
3.5. Facebook Gruppen
4. PLP Community Hub
4.1. Interaction with teachers all over the globe
4.1.1. Helped communicate ideas for a primary teacher in Melbourne, Australia
4.2. Discover different educational groups
4.3. Explore various educational topics, events and different courses
4.4. | Powerful Learning Practice