WHAT DO YOU DO IN YOUR FREE TIME?
by JEYCK STEVEN CASTELO ANDRADE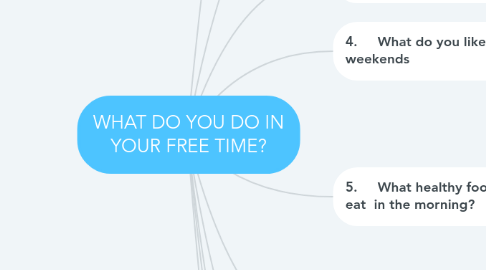 1. 1. What is your favorite activity on weekends?
1.1. My favorite activity on weekends is play video games
2. 2. Where do you like to do your homework?
2.1. I like to do my homework on my bedroom
3. 3. What time do you get up in the morning?
3.1. I get up 5:00 o´clock in the morning before of I go tu my Job
4. 4. What do you like to eat on weekends
4.1. I like eat pizza o burguer on weekends
5. 5. What healthy food can you eat in the morning?
5.1. In the morning we should eat fruit milk cereal and whole wheat bread, these foods are healthy
6. 6. How often do you practice your English ?.
6.1. I practice English every day to improve my pronunciación
7. 7. What kind of clothes can you wear when you have a party.
7.1. When I have a party i usually dress formal because I like to look elegant
8. 8. What kind of shopping mall do you want to visit?
8.1. shopping
9. 9. What do you dislike about vegetarian food?
9.1. I dislike a badly prepared cold food and in bad company
10. 10. What kind of music do you enjoy?
10.1. I really like Christian music. considers that it carries a message to reflect and help strengthen our faith in GOD, and remind us of his innumerable p