helping the planet
by Júlia Duarte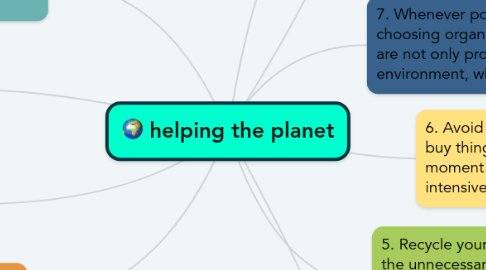 1. 1. plastic: we can reduce the excessive use of this material and replace it with less harmful ones.
2. - The planet needs help and we can help by collaborating with the environment in our daily activities.
3. it is our duty to care for and protect the environment to preserve our planet. So here are some tips on what we can do to contribute:
4. 2. water: we must avoid waste, with faster baths, avoid unnecessarily open faucets.
5. 3. save energy: To save energy, it is important to remember to turn on only the necessary electrical appliances.
6. 4. Always dispose of waste correctly. Disposing of waste properly prevents pollution and even the spread of disease.
7. 5. Recycle your trash. This measure avoids the unnecessary waste of natural resources and also helps to reduce the concentration of waste in the environment.
8. 8. Inform others. Ensuring a healthy environment is a task for all of us and, therefore, it is essential that information is passed on to all spheres of a population. Today's children, for example, will be the ones who will suffer most from the consequences of the negative impact of man on nature, so they must be informed about ways to reverse this situation. ;)
9. 6. Avoid consumerism. Sometimes we buy things without needing at that moment and we contribute, thus, to the intensive use of natural resources.
10. 7. Whenever possible, opt for organic food. By choosing organic foods (free of pesticides), we are not only protecting our health, but also the environment, which is free from these products.