Cloud Security Analyst
by leroi june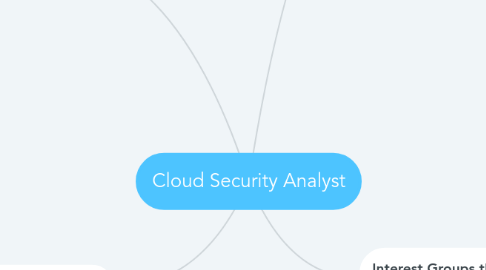 1. Modules that will help me achieve my goal
1.1. Server and Cloud Security
1.1.1. Learn the concepts and knowledge related to securing web servers and cloud modules.
1.1.2. Learn the specific tools used to test for vulnerabilities in web servers.
1.2. Network Security
1.2.1. Provides in-depth knowledge of network security from a defensive view.
1.2.2. Identify the internal and external threats against a network and to propose appropriate security policies that will protect an organisation's information.
2. Interest Groups that will help me achieve my goal
2.1. ICT Society
2.1.1. Gain confidence when meeting new people.
2.1.2. Experience in organising events
2.2. Nullsec
2.2.1. Familiarise myself with Cyber Security related topics
3. Skills
3.1. Current Skills
3.1.1. Technical Skills
3.1.1.1. Python Programming
3.1.1.2. Vague understanding of Cyber Security related topics
3.1.2. Soft Skills
3.1.2.1. Leadership
3.1.2.2. Teamwork
3.1.2.3. Work-delegtion
3.1.2.4. Problem-solving
3.1.2.5. Determined
3.2. Skills to acquire
3.2.1. Technical Skills
3.2.1.1. In-depth understanding of Cloud Security
3.2.1.2. Risk-Assessment
3.2.1.3. Security Management
3.2.1.4. Understanding of Networking
3.2.2. Soft Skills
3.2.2.1. Self-Confidence
3.2.2.2. Public Speaking
3.2.2.3. Creative Thinking
3.2.2.4. Communication
4. Things to do to achieve my goals
4.1. Graduate from Ngee Ann with a >3.6 GPA
4.2. Enrol into Singapore Institute of Technology (SiT)
4.2.1. Graduate with a degree in Information and Communications technology
4.3. Sign up for workshops to increase knowledge and practical skills