Why CAT Tools? Importance of using them
by PAMELA MICHELLE LOPEZ DOMINGUEZ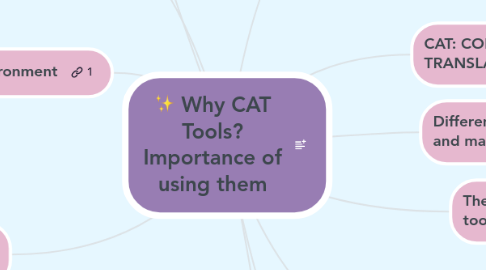 1. CAT: COMPUTER-ASSISTED TRANSLATION
2. Benefits
2.1. THE TRANSLATION ENVIRONMENT
2.1.1. TRANSLATION MEMORY
2.2. ALIGNING EXISTING TRANSLATIONS
2.2.1. USING CONSISTENT TERMINOLOGY
2.3. QUALITY CHECKS
2.3.1. PROJECT UPDATES
2.4. WORKING WITH OTHERS
3. Main Features
3.1. TRANSLATION MEMORY
3.1.1. TERM BASE
3.2. INTEGRATED SOFTWARE ENVIRONMENT
3.2.1. QUALITY CONTROL MODULE
3.3. PREVIEW PANE
3.3.1. SPELL CHECKING
4. Difference between CAT tools and machine translation
4.1. One involves humans while the other does not
5. The translation environment
5.1. A RIBBON
5.2. THE TRANSLATION GRID
5.3. THE TRANSLATION RESULTS TABLE
5.4. A PREVIEW PANE
6. The quality control settings in CAT tools like memoQ can be customized.
6.1. One of the huge benefits of using a CAT tool is the automated quality checks that the tool can perform.
7. Series of automated checks
7.1. Spelling
7.1.1. Punctuation
7.2. Placeholders for images, formatting information or references
7.2.1. Number value and number format checking
7.3. Empty segments/missing translations
7.3.1. If a forbidden term is used
7.4. Consistency check
7.4.1. Length of translated text
8. Project Updates
8.1. A CAT tool makes this update far easier and the translation memory can be used to populate the updated source text with your existing translations.
9. Other benefits of using a CAT tool
9.1. MANAGING YOUR WORK
9.2. QUOTING JOBS EASILY
9.3. REGULAR UPDATES
9.4. GET MORE JOB OFFERS
10. In memoQ, the analysis will show you the following
10.1. Total number of words/segments to be translated
10.2. The repetition in the text
10.3. The number of matches coming from the translation memory
10.4. The number of egments without matches
11. How to pick a CAT Tool?
11.1. Your University is a great source of information
11.2. translation associations
11.3. Blogs and other sources of information on the internet can also help