How does critical pedagogy reveal and confront the role that schooling plays throughout history in the United States?
by Ashley Vidulich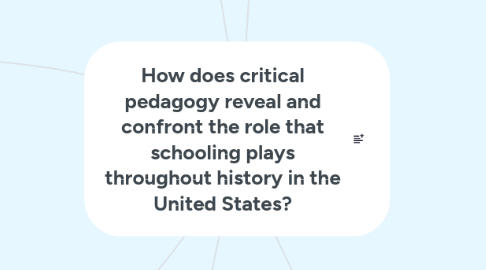 1. Social Movements
1.1. Inequalities
1.1.1. Social Inequalities
1.1.1.1. Dominant Culutre
1.1.1.2. "Equality was carefully defined as political and legal equality."
1.1.2. Educational Inequalities
1.1.2.1. Literacy becomes the weapon against groups who are "culturally illiterate" and deemed experiences become too unimportant to investigate.
1.1.2.2. Quality of resources was drastically different between black, mexican, and white schools.
1.1.2.3. Liberal culture vs. industrial training curriculum
1.2. Educational Refrom
1.2.1. Grassroots movement
1.2.2. Emancipatory knowledge for CP
1.3. Attendance and Curriculum
1.4. Higher education
1.4.1. DuBois proposal to support black higher education
2. Politics
2.1. Political Influences in education
2.1.1. Booker T. Washington: "industrial education is the supreme need."
2.1.2. Reagan
2.1.3. Bush
2.1.4. JFK
2.1.5. DuBois v. Williams proposals on higher education
2.1.6. Johnson's Great Society Domestic Program
2.1.7. Devos privatize public schooling
2.1.8. Obama push for U.S. hegemony
2.2. Political risks for education
2.2.1. Tesseract Schools
2.2.2. Privatize public schooling
2.3. Federal programs
2.3.1. Student Loans (FSA)
2.3.2. Head Start
2.4. U.S. Economy and educational achievments
2.4.1. General Educaation Board
2.4.2. Board of Trustees
2.4.3. Department of Education
3. Funding
3.1. Philanthropists
3.1.1. Could not support the expansion of black higher education
3.2. Missionaries
3.2.1. Missionary Societies: Weak financial support when black colleges needed them most
3.3. Government
3.3.1. Test scores determined funding
3.3.1.1. State Dependent Grants
4. School Reform and Strategies
4.1. Common Core
4.2. NCLB
4.3. Choice Experiment
4.4. Tesseract Schools
4.5. IDEA special education
5. Standards Movement
5.1. Standardized Testing
5.2. ACT testing
5.3. Monopoly on education
6. Equalities and Priorities of Teaching
6.1. Hegemonic control in the classroom
6.2. Civil RIghts Movement 1964