FIRST AND SECOND LANGUAGE ACQUISITION
by MELANIE GENESIS ORRALA AVELINO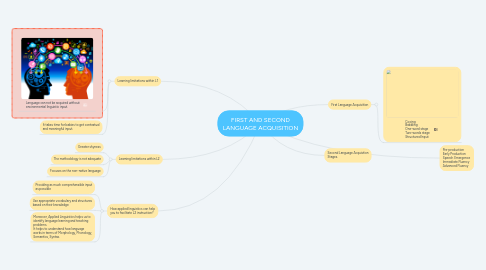 1. Pre-production Early Production Speech Emergence Immediate Fluency Advanced Fluency
2. First Language Acquisition
2.1. Cooing Babbling One-word stage Two-words stage Structured Input
3. Second Language Acquistion Stages.
4. Learning limitations within L1
4.1. Language can not be acquired without environmental linguistic input.
4.2. It takes time for babies to get contextual and meaningful input.
5. Learning limitations within L2
5.1. Greater shyness
5.2. The methodology is not adequate
5.3. Focuses on the non-native language
6. How applied linguistics can help you to facilitate L2 instruction?
6.1. Providing as much comprehensible input as possible
6.2. Use appropriate vocabulary and structures based on their knowledge
6.3. Moreover, Applied Linguistics helps us to identify language learning and teaching problems. It helps to understand how language works in terms of Morphology, Phonology, Semantics, Syntax.