Privacy, security, ethnic and ergonomic
by 2_Nur Baisyirah Yusairy Yakimin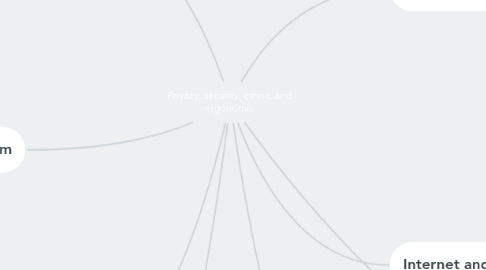 1. Hides in a computer and allow someone from a remote location to take a full action
2. Computer security risk
2.1. Any action or event that cause a loss or damage to the software, computer hardware or information
2.1.1. Hackers
2.1.2. Crackers
2.1.3. Script kiddies
2.1.4. Coporate spies
2.1.5. Unethical employees
2.1.6. Cyberextortionists
2.1.7. Cyberterrorist
3. Internet and network attack
3.1. Information that transmitter over network has a higher degree of security risk.
3.1.1. Computer virus
3.1.1.1. Affects a computer by altering the way the computer works
3.1.2. Worm
3.1.2.1. Copies itself repeatedly, using up the resources and shutting down computer
3.2. Online security service is a web that evaluates your computer to check for email etc.
3.2.1. Trojan horse
3.2.1.1. Program that hides within or look like a legitimate program
3.2.2. Rootkit
4. Unauthorised access and use
4.1. Access
4.1.1. The use of computer or network withoit permission
4.2. Use
4.2.1. The use of computer or its data foor unapproved or possibly illegal activities
5. Hardware theft and vandalism
5.1. Theft
5.1.1. Act of stealing computer equipment
5.1.1.1. Occurs when
5.1.1.1.1. Steals software media
5.1.1.1.2. Intentionally erased programs
5.1.1.1.3. Illegally copies a program
5.1.1.1.4. Illegally register or activate s a program
5.1.1.2. Information theft
5.1.1.2.1. When someone steals personal or confidential information
5.2. Vandalism
5.2.1. Act of destroying computer equipment
6. System failure
6.1. Prolonged malfunction of a computer
6.1.1. Because of
6.1.1.1. Aging hardware
6.1.1.2. Natural disaster
6.1.1.3. Electrical power problem
6.1.1.4. Error in computer programs
7. Ethics and society
7.1. Computer are the moral guidelines that used of information and computer system
7.2. Intellectual property rights
7.2.1. The right to which creators are entitled for their work
7.3. An it code helps determine whether the specific computer action is ethical or unethical
7.4. Green computing
7.4.1. Reducing the electricity and environment waste while using computer
8. Summary
8.1. Potential computer risk amd safeguards
8.2. Wireless security risk and safeguards
8.3. Computer-related health issues and prevention
8.4. Ethical issue surrounding information accuracy, intellectual property rights, codes of conduct, green computing and information privacy