EDTC 600 Final Exam
by Abigail Smith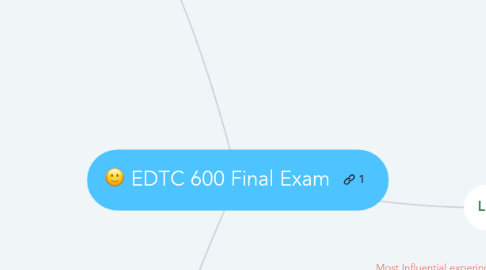 1. Course Reflection
1.1. Most Influential experince
1.1.1. Learning about TPACK vs. SAMR, making a lesson and learning how I could improve it, and the best way to incorporate technology into any lesson
1.2. Adaptations I will make
1.2.1. I am going to continue to work on different technology tools, making sure to incorporate techniques for differentiation and accommodations, I will also be using some of the things I learned in making the website
1.3. Improvements for my teaching
1.3.1. Making sure that each of the activities that I do is higher up on the SAMR scale than an A activity
1.4. Dispositions I will improve
1.4.1. I will work on coming into a class with no expectations. I would like to learn from the students what they know and what they need to learn rather than assuming they already know something, or how to use a specific tech tool just because they grew up in a younger generation.
2. Interviews
2.1. Strenths/Weaknesses
2.1.1. Strenths: Able to learn new technology quickly, wants to switch up the technology often so kids aren't using the same programs all the time, has great use for tech with giving directions and assigning projects
2.1.2. Weaknesses: uses premade templates sometimes; doesn't always cover the preferred material, needs more time to explore before answering questions, repeating tech tools, can have difficulties transforming some lessons to be online
2.2. Teaching Methods
2.2.1. Most effective: trying things based on the strengths in the room, able to add accommodations to any lesson, has backup plans, many study tools and review games, screen records important directions to have them available
2.2.2. Least effective: can get distracted by available tech tools, adding too many can make students lose interest, cluttering student devices (too many accounts), could try different, more streamlined things
2.3. Effective Technology List
2.3.1. Screencastify: Very helpful to give students the ability to go back and listen to directions however many times they need to
2.3.2. Quizlet: Study tool as well as review games, engaging
2.4. Class Objectives
2.4.1. Central ideas were there, one teacher uses very specific ideas daily, one goes for a whole week. Does not always have technology related to the objectives
2.5. Obstacles
2.5.1. Students may get bored of certain technology, may have a hard time learning so many new things in a short time before mastering a topic
2.6. Synthesis
2.6.1. Student Learning
2.6.1.1. has helped especially with special ed., many resources available
2.6.2. Implementation
2.6.2.1. more techniques as to run a classroom more smoothly, some more repetition, more options to integrate technology
2.6.3. Using tech, software, applications
2.6.3.1. Good grasps on which tools are helpful and which are more of a distraction, more time for students to grasp old tools before moving on
3. Lesson Plan Comparison
3.1. Strengths/Weaknesses
3.1.1. Strengths: Great ideas in the lesson plans, outlines every single activity very well, incorporates technology in a meaningful way, goes into depth about the process of writing a narrative
3.1.2. Weaknesses: Technology seems to be at the S level of SAMR, could have more of a purpose, needs to advance the lesson rather than simply substittue
3.2. Teaching Methods
3.2.1. Most Effective: I enjoyed that both lessons walked through the technology before sending students off on their own, both lessons had students read examples before writing their own, had plenty of accommodations
3.2.2. Least Effective: Students may need more time alone with their writing to ensure a better job done, small workshop groups may be a good addition, kids will have the opportunity to show their work at different stages before moving on
3.3. Effective Technology List
3.3.1. using laptops to type up the assignment, story mapping online
3.4. Class Objectives
3.4.1. Useful objectives in both examples, clear to students what needs to be completed by the end of each part of the lesson
3.5. Obstacles
3.5.1. Seems that the amount of paper things that students are expected to complete and keep track of could be an issue
3.6. Synthesis
3.6.1. Student learning
3.6.1.1. covers many standards, students will be well prepared after each lesson
3.6.2. Implementation
3.6.2.1. Well implemented, would have liked to see some of the days cut out so there was more time to focus on the ins and outs of writing each portion of the narrative
3.6.3. Using tech, software, applications
3.6.3.1. Would liked to have seen more technology used here, there were opportunities to advance the learning through technology that were not taken advantage of.