Albert Einstein
by Siya Sobti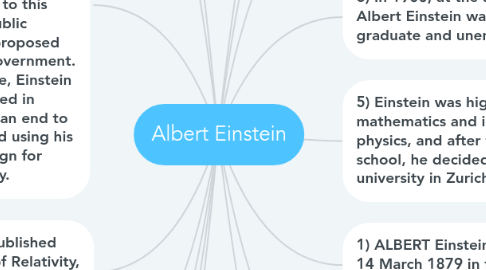 1. 10) An eclipse od the Sun in 1919 bought proof that it waa accurate.
2. HOW HE WAS A WORLDY CITIZEN AND A VISIONARY FIGURE
3. 12) Einstein was called a visionary and a world citizen because when America developed the atomic bomb in secret and dropped it on the Japanese cities: Hiroshima and Nagasaki in August 1945, then Einstein was deeply shaken by extent of the destruction. Due to this reason he wrote a public missive in which he proposed the idea for world government. Over the next decade, Einstein got ever more involved in politics agitating for an end to the arms building and using his popularity to campaign for peace and democracy.
4. 9) In 1915, he had published his General Theory of Relativity, which provided a new interpretation of gravity.
5. 8) According to which time and distance are not absolute.
6. 𝗘𝗗𝗨𝗖𝗔𝗧𝗜𝗢𝗡
7. CONTRIBUTION TO SCIENCE
8. 6) In 1900, at the age of 21, Albert Einstein was a university graduate and unemployed.
8.1. He worked as a teaching assistant, gave private lessons and finally secured a job in 1902 as a technical expert in the patent office in Bern.
9. 4) He went to high school in Munich, where Einstein's family had moved when he was 15 months old, and scored good marks in almost every subject.
10. 𝗖𝗛𝗜𝗟𝗗𝗛𝗢𝗢𝗗
11. 11) Einstein received the Nobel Price for physics in 1921
12. 5) Einstein was highly gifted in mathematics and interested in physics, and after finishing school, he decided to study at a university in Zurich.
13. 1) ALBERT Einstein was born on 14 March 1879 in the German city of Ulm.
14. 2) At the age of two-and-a-half, Einstein still wasn't talking. When he finally did learn to speak, he uttered everything twice.
15. 7) One of the famous papers of 1905 was Einstein's Special Theory of Relativity.
16. 3) Einstein began learning to play the voilin at the age of six, because his mother wanted him to do.
16.1. He later became a gifted amateur voilinist, maintaining this skill throughout his life.