Proyecto de Vida
by camilo leon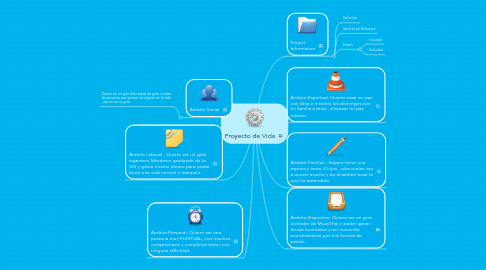 1. Ámbito Social
1.1. Quiero ser un gran líder capáz de guiar a todas las personas que quieran ser alguien en la vida , quiero ser su guía.
2. Ámbito Laboral : Quiero ser un gran ingeniero Mecánico graduado de la UIS y ganar mucho dinero para poder llevar una vida normal y tranquila.
3. Project Information
3.1. Definition
3.2. Items to be Delivered
3.3. Extent
3.3.1. Included
3.3.2. Excluded
4. Ámbito Deportivo: Quiero ser un gran luchador de MuayThai y poder ganar títulos mundiales y ser conocido mundialmente por mis formas de pelear.
5. Ámbito Personal: Quiero ser una persona muy PUNTUAL, con muchos compromisos y cumplirlos todos con ninguna dificultad.
6. Ámbito Espiritual: Quiero estar en paz con Dios e ir todos los domingos con mi familia a misa , a buscar mi paz interior.
7. Ámbito Familiar : Espero tener una esposa y tener 2 hijos , alos cuales voy a querer mucho y les enseñaré todo lo que he aprendido.